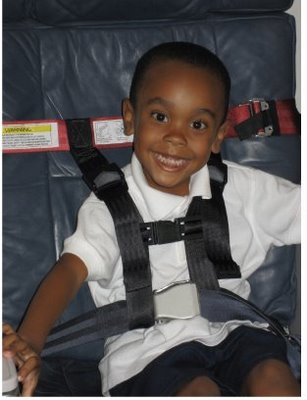 We are traveling on Monday and this is big news because Lucy is two and this means she can no longer be a "lap" child. It is also big news because it means, new travel gear! Specifically, the
CARES child aviation restraint system, it is a safety harness for kids. As you can see in the picture you use the seat belt and the seat to create a harness.(I will post a pic of Lucy using the harness after we travel) It is approved by the FAA, and most airlines. (check with yours before you fly) The airplane seat belt alone does not protect small kids who cannot brace themselves. It only weighs one pound which makes it super easy to bring in your carry on.
Another change for us…something I never thought would happen……is we will be checking our luggage! Yes, you read that right. We have to check Lucy's car seat anyway, and Lucy's clothes no longer fit in my suitcase so we bought…gulp…a large suitcase. Something else I never thought I would do! I still say if you are traveling alone, with an infant (love the sling!), or with people who can lug their own luggage then by all means "carry on!" But, for those of you with toddlers, checking is going to cause less stress. There are a couple of very important points to remember when checking:
Get to the airport earlier
Do not put valuables in your checked bags
do not put you

meds

in your checked bags
tell whoever is picking you up that you checked your bag, if you arrive on time, have them add 45 minutes to your arrival time….this should give you enough time to get your bags and be out waiting for them, that way they shouldn't have to circle the airport.
I am actually looking forward to going through security with a lot less stuff! I will let you know how the harness works for us. I have read nothing but good reviews so I am anticipating a smooth flight: )