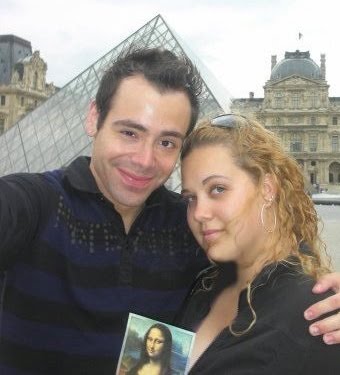 This weeks Crew Brief is with FA Jenn! Jenn has recently started her own FA Blog (click here)so I thought this was a great time to learn more about her:
The Flying Pinto: What is your story? How long have you been flying? What did you do prior?
Jenn: Well, I'm Jenn. I live in Montreal, Canada. If you don't know much about Montreal…Montreal is one of the coolest places in North America (in my humble opinion, of course) and I strongly encourage all of you to come out and visit, enjoy the night life and maybe practice your French. 😉
I'm 26 yrs old. I'm a flight attendant for Air Canada. I've been working for Air Canada for over 4 and a half years now and I love my job. I speak English, French and currently I am at school learning German on my days off.
I think working for Air Canada has always been my destiny, since my whole family works for the company. I think the thing that really sealed the deal for me was when my step-mother became a flight attendant when I was 15yrs old. When she came home with Pashminas from India, all sorts of body creams from Israel not to mention chocolates from Switzerland and gorgeous pictures from around the world, it sold me on the idea.
After high school I had no Idea what to do with my life. I think I always imagined someone would walk up to me and offer me a glamorous life in LA as an actress or singer! ( oh how the young are naive) Instead I worked full time in retail jobs or in restaurants. At 18 the opportunity came up for me to apply as a flight attendant, and my dad ( who was a lead ramp agent at Air Canada at the time) kept bugging me to apply. I really wasn't happy working in retail but couldn't see myself leaving my friends and family behind for a job that required you to move to another province. I was definitely too immature. So for the next couple of years I schlepped between going to college and working in a restaurant.
Another opportunity to get hired as a flight attendant, came around again when I was 21, this time I JUMPED on it!!
I got hired and after a grueling training process moved 600 kmeters away for home to start my new career!
FP: I'm impressed you speak two languages and learning your third! It sounds like your a lifer…I know I am. I love the flexibility of our job what do you love about it? What keeps you flying?
Jenn: What don't I love about this job?! It's just great!
It's the exact lifestyle I was looking for… Almost like a Rock star! That's what I tell people. Sometimes you wake up, and you have no clue where in the world you are, what day it is and what hotel your In! I absolutely love it! Traveling the world also hasn't been so awful! Ha Ha! Also the time off can't be beat. I have time to go to school, and PLENTY of time for my family! I think the thing that keeps me flying is the sheer fear of 9-5 jobs! I took the opportunity last year to stay out of the sky for a year (after I got married) and do a desk job for a year at Air Canada! It was fun while it lasted… And I really valued the opportunity to have seen the other side of things, but it was definitely NOT for me and the grass is not always greener on the other side!
I think the thing I love the most about my job is, my little rituals everywhere I go. Everywhere in the world that I go, there's that one thing I just NEED to buy and take home or do. For example : I love going to Cuba to get my dark rum, going to my little spot in Toronto for my pedicures, buying my FAVORITE earl grey tea in London,going to Hong Kong for pearls and then 2 hours of reflexology, Hand cream in Frankfurt, and Red wine and Camembert in Paris. That is when I truly feel like I'm living the life!
FP: You're making me jealous, I miss international flying! Christmas time is the best, seeing all the lights in the different cities and bringing home unique gifts for everyone. What kind of schedule do you hold, what kind of trips do you like to fly?
Jenn: I recently after 3 years got transferred to Montreal (Yul) base, there's not a lot of movement at this base, so transfers don't happen very often, I was very lucky. However, it is one of the most senior bases in the country. I mostly fly weekends, and mostly domestic flights rights now. But I really can't complain because it really beats commuting!! The flights I would like to fly are quite different from what I am doing right now. Although my company does fly to France, my French does not give me an advantage because 85% of the flight attendants at Air Canada speak french as well. So, I've opted to go back to school part-time and learn German so I could hold only international flying as a German speaker! I've already been studying for about 2 years and plan to go for my German test in the fall! Wish me luck!
FP: Junior or not it's great to be based where you want to live. You are lucky! What is your biggest passenger pet peeve? How about biggest crew pet peeve?
Jenn: Biggest passenger pet peeve has to be going into the lav barefoot!! I'm a bit of an "OCD germaphobe"! Ha ha! So that kinda grosses me out.
Biggest crew pet peeve, has to be bullies(FAs who are bullies that is)!
Mean, old, SUPER senior bullies that try to intimidate you, pick on you and plan fun plans for the layover with the whole crew in front of you and purposely not Invite you! My base is known for having a LOT of these people! These people are worse then slam clickers, worse then your meanest passengers!!! I'll take a slam clicker any day!
FP: Bare feet on the plane seems to be the most common passenger pet peeve. As you know I've had some strange happenings on my flights, what is the most bizarre thing you have seen on a flight?
Jenn: Actually I've been quite lucky. I think the strangest thing I've ever seen on my flight was something that happened last month. I had a passenger who was supposed to be in economy and he took a seat in business, it was no big deal. When we asked him to move he seemed generally surprised that he was in the wrong seat, and moved without any trouble. He was then sat in his seat at the over wing exit, and he kept reaching up to touch the handle and play around with the door. I told the In-charge flight attendant that I was uncomfortable with him being at an emergency exit. So after took off we asked him to swap with another passenger and put him closer to the back where we could keep an eye on him. Shortly after we did our service the man in question started to act a little stranger than before, he started to furiously write on the backside of his boarding pass. Then he crumpled it up and folded as tight as possible and stuck it in his glass of juice, and continued to drink his juice with the soggy boarding pass at the bottom of the glass!! Then about 10 minutes later, our in-charge who was constantly monitoring him came to the back and said in French something along these lines "Oh my God! This is unreal…. He's sitting there EATING his boarding pass now!!!" and flopped her head onto my shoulder. The other flight attendant and I refused to believe it so we went to go watch, and he was sitting there calmly watching the TV screen in front of him eating his boarding pass!
About 10 mins after THAT I went into the cabin to collect garbage, and as I came to his seat I was half expecting him to be eating his cup, but what I saw was 10x worse! He had shoved his whole little bag of peanuts up his nose- one by one! His nostrils were full and bulging, with some halfway hanging out! HA! As I collected the garbage from his row, he looked up at me completely naturally and handed me his empty glass! Poor guy!!! We had the airport authority meet him when we landed.
FP: Yikes, kind of strange, but also kind of scary! What can we find in your carry on?
Jenn: Uhhhh– ohhhhh!!! Lol
Here are some of my *essentials*:
Moisturizer-It's a MUST for ANY FA! Your skin gets so dehydrated after a day of flying!
Body spray/ perfume- Always right in the front pocket. (Getting off the aircraft and still SMELLING like an aircraft is not an option!)
Galley shoes- For those not in the industry, the 5 inch spikes us ladies wear around the airport come off the second we board the plane!
Trashy mags & books- always have about 2 books on hand in case my plane goes mechanical in Cuba and I have an unplanned 14 day layover there! WHAT… It could happen!
Trashy mags, self explanatory.
One pair of "going out" jeans, a "going out" top and some comfy/going out shoes- never know what can happen on a layover! …Even on those unbelievably short ones, never know who you 😉
The comfiest pj's EVER!
All miniature essentials to have a "spa day" in your hotel room ( lotion, candles, body scrub, foot scrub, mani/pedi set, and nail polish. Sometimes even a mini bottle of red wine… ! Lol! I'm all about injecting the glamour back into our job!) 😉
MUST-HAVES:
-3 EXTRA pairs of underwear & 2 EXTRA bra's- Because you never know when a three day pairing can unexpectedly turn into a 6 day!
-Tide-to-go!
-Sewing kit.
-Umbrella
-Wallet with all types of international money.
-Second uniform, in case the first one gets soiled or ripped!
And….. I know what your thinking. And the answer is YES, my bags are MASSively heavy! Lol
FP: Can we find you at the hotel bar or are you a slam clicker?
Jenn: I'm always up to going out with the crew. No matter how long the duty day, or how short the layover! So if the crew is at the bar… That's where you'll find me. However, if nobody else goes out then you'll probably find me in my room vegging or out shopping.
FP: What is your favorite vacation destination?
Jenn: This is not your typical "Vacation" spot, but I love London, it's one of my favorite places on earth. I love the people, I love the vibe. I would love to move there one day!
In case you've never been, or would like to rediscover it, Some of my favorite things to do there are/is:
SoHo- so trendy, so fun. Great little eateries and pubs alike!
The National Gallery- Great way to spend the day when the weather is poor outside.
Prêt(a-manger) although these are now popping up almost everywhere (New York, Washington D.C, Hong Kong) I first fell in love with this tasty sandwich-on-the-go shop long ago in London. Stop in here for a delish Turkey BLT, and organic pomegranate juice with "No nasties!"
Oxford Street- Grab a "London fog" at Starbucks and walk up and down stopping into find great deals at Boots, and Primark.
M&S- Marks & Spencers… Enough said?! Hahaha Take home some delicious traditional Scottish shortbread cookies for the family.
I think all the touristy stuff is fun, but I also like to blend in and pretend to BE a Londoner. Take the TUBE! Get an Oyster card and Discover London! Get off at any random spot and enjoy some mouth-watering Indian food at the 1st "authentic" looking restaurant you find, find a "chip" vendor and indulge! Take a evening boat cruise along the Thames… you won't regret it!

FP: One of my very best friends is moving to London next month. I can't wait to take my daughter to visit. How does your spouse/partner feel about you flying? If single, how has dating been as a FA?
Jenn: I have been married for about 2 yrs, but I've been dating my husband since before I even started flying. So I've never known what it feels like to be a "single stew". Initially my husband (then boyfriend) was very supportive, but when my training was wrapping up and the reality of us starting a long distance relationship settled in i think he began to get a little uneasy. The first couple of years were tough, especially trying to tell him the kind of shenanigans that went on on layovers without him being too upset. Trying to maintain a relationship being so far, with added stresses of jet lag, reserve, crew scheduling running your life, commuting…. on and on. I don't know how we made it through all that, but we did. These days it's resorted to just being "my job" my husband no longer feels insecure about me going on crazy layovers and passing out in bars or sneaking off in dark corners with pilots. He sees how much i love my job and respects that. He also benefits from a lot of the perks, like the passes and getting to accompany me on layovers!! However, every now and then when I have a bad pairing or a mean crew and come home to complain about it, he always tries to get me to think about a job on the ground! Can't blame a guy for trying!
FP: What is your best travel tip?
Jenn: Bring your own food. I mean, for the plane ride, and also enough to last some of your vacation. Most airlines charge for food or the food is unappetizing… save yourself the grief and just bring your own!
I've also gone to a couple of places in the world where the food completely turns me off (Cuba), OR I've got a intestinal parasite from eating from that specific country due to lack of cleanliness (Turkey). Please, do me a favor save yourself the travelers diarrhea and a trip to the local clinic in Turkey….. bring a couple of granola bars in your backpack!
😉
FP: Thanks Jenn! I loved learning more about you! Good Luck with your blog and I'll be chatting with you on twitter😉