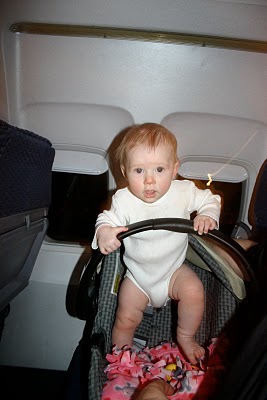 Hi Everyone! Happy #TravelTuesday. This weeks tip was inspired by one of the questions that appeared in yesterday's Washington Post's Talk about Travel Discussion: Should there be child free zones on airplanes?
I posed this question on my new Face Book page too and I agree with Wil I don't think there should be child free zones. I recently had a passenger go ballistic because during boarding and well into taxi and take-off we had a screaming….blood curdling screaming toddler on the plane. I was more sympathetic towards the parents than the irate passenger. Here's why: Flying is public transportation.
With that in mind, my travel tip this week for him and everyone traveling is to bring some form of noise cancellation.  It doesn't have to be $300 Bose Headphones, simple earplugs will do and they're cheap. Buy a big box and share with the not so savvy travelers around you. I always recommend that if you're a nervous parent, bring the whole bag of ear plugs and offer your neighbors a pair. It breaks the ice when you know they are thinking, "Oh, great! They're sitting next to me!" We all know "the look."
First Class is a different discussion. I lean towards a minimum age requirement for FC. The reason I say a minimum age is because babies cry. You can't reasonably expect a baby or toddler who maybe be overstimulated and up way past bedtimes to act appropriately. You maybe thinking, Oh, sure so if you have the money you should be able to choose child free cabins. Not at all. Frequent fliers are the bread and butter for the airlines and are often upgraded from miles. They use the time in flight to work. But, again it's still public transportation so I'm on the fence. Bobbylaurie also wrote about this topic in an article for Flightster.com. you can check it out here.
So, what can Flight Attendants do to help? I know a lot of Flight Attendants decide to comp drinks to the passengers sitting around the screaming or crying child. I actually offer the drink, usually a glass of wine to the parents. It works, because the child is feeding off the stress of their parents and trust me there is a whole lot of stress going on with Mom and Dad! If you can get the parents to relax usually the child will follow suit.
That's it for this week. Thank you, to all my new Face Book "likes" If you haven't visited my new page head over there now and let me know what you think about child free cabins, by clicking "here"