As a flight attendant I love my Boston layovers. Especially when I get 30 hours there. I'm from the area and always enjoy going "home." My most recent visit was special because my mom was able to join me at the hotel for a sleepover on the second night. Although, when I arrived at the layover hotel I was afraid there wouldn't be much sleeping going on! There were ton of college age kids swarming around. Yes, I mean swarming. Granted it was Friday night and it was about 11:00pm, but this was not good news for my tired crew. We had flown about eight hours and we were ready for some serious rest. The front desk assured us they did their best to put us in rooms away from the group in question. Who turned out to be a group of over 1000 university students hosted by Harvard University. We signed in and headed toward the elevator and that's were the trouble began. The hotel we stay at is old and so are the elevators that are only meant to carry 6 people at a time! It took us well over a half an hour to get to our rooms! When I finally arrived at my floor, I literally made my way past drunk kids in the hallway sitting on the floor eating pizza, running, laughing and partying. My room not only was not separated from the "group" it was in the middle of the action. I even had a flyer in my room welcoming me as part of the conference!
There is a happy ending to this story. I decided to call the and talk to the manager on duty. I let her know how much I love the hotel (because I do) and that generally I wouldn't complain. I tread lightly when I'm at a layover hotel I love because even though I would suffer immensely that night the hotel is beautiful and it's location is amazing in the heart of the city and I wouldn't want to cause any issues where we might lose the contract! But, she got it! I also told her I noticed that there was a private elevator to the executive floor and was wondering if they had any availability on that floor. Yes, they did! She was even nice enough to send the bellman up to each of my crew members rooms with new keys to our new rooms. As I got off the elevator on my new floor, the best analogy I can make is it was like going from coach on a flight to Disney and getting reseated in first class! Ahhhhhh! The room was heavenly and very very quiet!!
My mom met me the next morning. We decided to do something a little different on this trip and took the subway, known as the T to Harvard Square. Although, cut a bit short due to the high winds and eighteen degree weather we had a great day eating, shopping and exploring.
So how did I spend my $50 in per diem?
Lunch: $12.00
deep dish pizza and a blue moon beer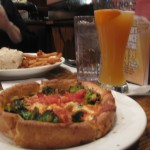 LUSH splurge: $19.00
The blonde shampoo and mushroom bubble bath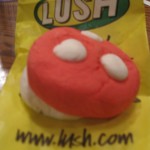 Tealuxe: $4.50
much needed and amazing hot tea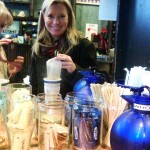 Dinner at the hotel: $14.00
roasted garlic, brie, raisin chutney, crostini and red wine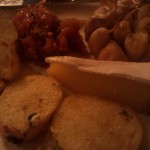 Total: $49.50