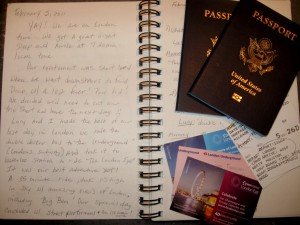 My daughters first flight happened at three weeks old. Not because I'm crazy, but because I didn't know any better! Traveling with kids that young is probably not the best idea. The problem was I had no idea! Our very good friends were getting married in Banff, Canada. When I found out I was pregnant my friend asked if we would still be coming to her wedding? To which I replied, "Of course! Why wouldn't I? Fast forward eight months later and you would find me crying in line with a two week old in the passport bureau office. Lesson learned. Although, I still think of the trip fondly and don't regret going. I was able to attend the wedding, in one of the most beautiful places I have ever been and Lucy got her first passport stamp. I also started her travel journal on that trip. She has traveled to many places since that first trip. Our most recent was a trip to London to visit friends who relocated there about a year ago.
I don't have time for scrap booking, so I buy a small sketch book and write notes in it. Lucy now contributes by coloring, drawing pictures of our experiences and answering questions I ask her about the trip. I also throw in our ticket stubs and maps. In a few years she can take it over and put her touch on it. Journaling is a great thing to do when you are traveling with kids, it is a good way to keep them busy on the plane and it will help them remember the details about their trip. You don't even have to travel very far to keep a journal, even if you head to a museum or event in your city get them in the habit of writing down their experiences. We often "travel" in our own city!
When traveling with kids what do you do to remember the experience? Do you have any special rituals?