Rewind eighteen years and I could tell you flying was easier, but was it? Yes, some things were definitely easier. Like traveling with your liquids! I had a question a few weeks back on what make-up is best to travel with. Since most women wear liquid foundation, this has become an issue when traveling. As a flight attendant and travel expert, I had to become what  the National Transportation Safety Board is to safety, I've had to become on comfort. The NTSB investigates accidents and then makes recommendations to the FAA on how to improve upon and/or make flying safer. So every time there is a new regulation or rule put in place by the FAA, I try to figure out a way to still travel comfortably with less stress while still following the rules. After all, those little stress balls are fun, but they are not the solution.
The way that I've been able to get around the liquid rule as a passenger is to travel with hardly any liquids, if any at all. How do you do that? Find everything you can in solid form. You've heard me sing praises about LUSH's solid shampoos, conditioners and moisturizers. Well, I have found the solution for your foundation as well! A while back I was in Tampa shooting a Travel make-over segment  for Daytime. Our winner not only got a new travel outfit, luggage, and hair, but she also got her make-up done. Well, I was so impressed by her make over that I asked the make-up artist what foundation she was using. I was then lucky enough to get my face done as well! The foundation she was using was Bare Minerals. I had seen the commercials  for them before but, to be honest I never thought I would ever use a powder foundation. This powder however is not like a powder! I love it so much. Not only does it solve my issues with traveling with make up, but it feels incredible on my skin. I don't even feel like I am wearing foundation. I bought the entire starter kit right then and there! I know there are many companies that make mineral make-up so you can do your research, but try it out. The less liquids you have the easier it is to get through that dreaded security line!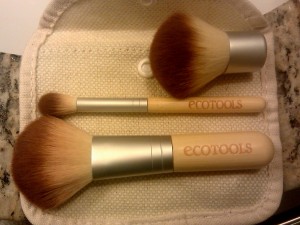 I also buy my make-up brushes in travel size. I love Eco Tools which you can find at Sephora, Ulta or even Walmart.
Oh and one last thing! Frequent travelers, don't forget to have two sets of toiletries and make-up, one for home and one set in your suitcase always packed and ready to go!
What are your tips for traveling with toiletries? Have you jumped on the solid bandwagon? Join me on Facebook, twitter and pinterest for more air travel news, tips, and tricks! Safe and Happy flying!