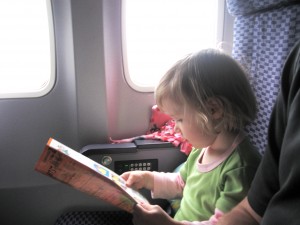 Traveling with children is an adventure that also brings it's own safety challenges and hazards. Here are a few tips for keeping your little ones safe on travel day:
Your child will be out of his or her element, let them know what to expect and how important it will be to stay close. Same rules as an amusement park or the mall.
Order or make a child ID safety card. Although, your not required to have ID for anyone under eighteen years of age for domestic travel I would recommend having your child's information on their person in case of accidental separation.
Explain ahead of time that they will be required to wear their seat belts on the airplane just as they do in the car. I highly recommend the CARES harness for children between 22 and 44lbs.
Consider buying a seat for your child under two and use a rear facing car seat until they reach 22lbs and can use CARES.
Depending on their age show them the safety information card once on the plane. If they're too young to understand the pictures, point out the exits closest to you and…
Teach them to follow along with the safety demonstration
If the oxygen masks do deploy, put yours on first! Remember your "time of useful consciousness" can be seconds. If you don't put yours on first you'll both lose consciousness.
Remember to always have any medications your children may need in your carry on and an index card stating any medical issues they might have.
Does your child have food allergies? Don't count on the airline or the airport to have what you need. Be sure to pack plenty of snacks adding extra for unforeseen delays.
Don't let small children go to the airplane lavs unsupervised. You never know when unexpected turbulence will hit.
Always wear shoes while walking around the airplane. Remember, the liquid on the lav floor probably is not water! Also, sometimes glassware breaks in the galleys.
Don't seat your child in the aisle seat if you can help it, their body parts tend to hang over the side when they fall asleep and they run the risk of being hit by a cart.
Travel with some band aids and antibacterial ointment for minor cuts, but remember flight attendants are trained for medical emergencies and have equipment on board the airplane. And, major airports have medics available on site.
Have a great trip and fly safe!