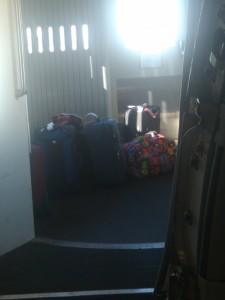 Last weeks post about carry on baggage brought in a couple emails and comments:
"Of course, there's the other side of this -- why are the bins always full of
little tiny bags that fit under the seat? I've lost track of the number of 2
bag passengers I see who put both bags in the overhead."

Let me shed some light! The airlines are staffing planes at minimum crew more and more these days. Minimum crew is the amount of flight attendants the FAA (Federal Aviation Administration) mandates per flight. In the old days airlines used to staff flights with more than minimum crew for service purposes, and well, since we all know how that's going these days we'll save that for another post!
There is a lot going on during the boarding process. Let's talk about a narrow body plane with less than 150 passenger seats. The FAA requires three flight attendants in this example. Flight attendant responsibilities vary, but no one is the designated aisle flight attendant. All airlines are a little different, but here is an example of who might be working where:
flight attendant A: the lead. Makes all announcements, greets passengers, gathers and hangs first class coats, takes drink orders and delivers first class pre-departure drinks. Helps and seats any unaccompanied minors, or other passengers requiring special assistance. Also, handles any issues that come up during boarding….and there are issues!
flight attendant B: First Class. preparing galley for on board service, checking to make sure all service items are present, counting meals, counting alcohol in bar cart, completing any prep work, preparing pre-departure drinks for FA A to deliver. Checking on flight deck and getting drinks for them if needed.
flight attendant C: Back galley. preparing the galley for service, taking inventory of all food for sale, inventory of the bar cart, setting up the bar cart, and as a secondary duty assisting in the aisle.
All three flight attendants are busy completing their tasks before it is time to shut the door. With so little time to assist in the aisle, their time there is to answer call lights and handle things like seat duplications, families with small children not seated together, and making sure the passengers seated in the exit row meet the criteria for sitting in that row. We also try to turn bags, and rearrange bags while we're out there, but as you can imagine "policing" for bags that shouldn't be there because either there small or a passenger placed two in the overhead is not very realistic. That is unless we're working a flight and there is a designated aisle flight attendant. International flights have the staffing, but there is so much space on those planes that it never seems to be an issue.
Tip: If a flight attendant is rearranging luggage in the overhead don't be defensive about your bag being moved a little, it's like a big puzzle for us and we're are just trying to accommodate everyone in the shared space. Also, please hang on to your coats and jackets until all bags have been stowed, thank you:)
And, I know from this tweet I saw that sometimes our hard work is noticed:
@followneal: The flight attendant's ability to uncover more space for bags in overhead bins is a marvel.
Thanks Neal!
Have any airline related questions? Join the conversation on Facebook/theflyingpintoblog or @theflyingpinto on twitter. You can also join me in The Crew Lounge, today for a special episode with Cliff Muskiet, flight attendant and uniform collector. He has an impressive collection of over 1000 flight attendant uniforms!  Do you have a kindle? You can subscribe to TheFlyingPinto.com and posts will be automatically downloaded for you!
Cheers and happy flying!