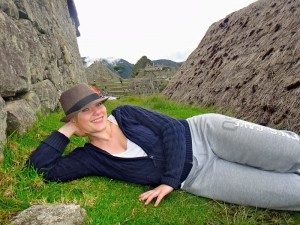 Guest post by reader Sylwia Stypulkowski:
Ever hold back on something you wanted because you questioned whether the time was right or if you should really be spending money on yourself like that? Welcome to my mentality…
For my 27th birthday, I decided to push that sort of thinking aside and treat myself for once. All my life, I always talked about going to Machu Picchu in Peru. Yet somehow, it was never the right time. A week before my birthday, I asked myself, "When is it going to be the right time?"
I locked myself in my apartment for that entire Saturday and googled away. I had far too many excuses and it was time to just go for it. By Sunday, I had a rough draft of a plan and through the week, I perfected it as much as I possibly could.
I wound up going on my adventure with a colleague, who through the trip, actually became a very close friend. I knew I had the perfect travel companion with me when I mentioned that I had no actual hotel reservation, just emails with the owner. She just replied, "Ok, if anything we'll just find something else!" (and that we did when our reservation failed to be found. haha)
We arrived in Peru in the midst of the rainy season, and yet the sun was shining and the sky, though cloudy, was an amazing, piercing color that I've only seen before in a Crayola box labeled "sky blue." Within a few minutes of our cab ride, we could not stop saying, "Oh my god, oh my god, this is so beautiful. I can't believe we're here. Wow." It felt surreal, like we were driving through a postcard image. Our hotel in Ollantaytambo, Hotel Sol, was a small quaint building. Our room faced the Urubamba River which provided a constant soothing sound of rushing water.
There is no one way to describe the experience of when we arrived at Machu Picchu. It is somewhat spiritual, as you gaze in amazement at the bright green mountains covered at the top with snow, and imagine the Incas that walked the trails you stand on. You can't help but wonder at the hard work that went into constructing all those stone houses and why someone would ever abandon such beauty.
Your mind is blank, but at the same time swarming with a million thoughts a minute. There are hundreds if not thousands of tourists walking along with you, and yet it is completely possible to feel like you are the only one there. In all the noise, there is a silence. There is a sense of serenity and peace. I can only imagine the full experience of those who hike the entire Inca trail. We took the train and bus there. However, I get the feeling I'll be back one day doing the entire hike.
Our trip wasn't very long, 3 days to be exact, and yet my life feels changed forever. For once, I took care of me, and gave myself the best birthday present I could have ever received. My story isn't about convincing you to go to Machu Picchu, even though I highly encourage that as well. What this story is really about is taking a risk, rewarding yourself, and letting go of a mentality that far too many of us possess. It's ok to splurge on yourself and be completely selfish. And remember, today is as perfect a day to do it as any other.
Sylwia
has been a loyal reader of The Flying Pinto for a long time so when she told me about her trip to Machu Picchu I asked her if she would share her experience with all of you! Thanks, Sylwia! 
Want to chat? Join me on twitter and face book! Are you a fellow crew member? Join me on my latest venture, JetJoose and share layover tips with other flight attendants!