I felt like a super star when I gave my best time saving travel tips for the October edition of O Magazine! It's funny when you talk to an editor for an hour and you envision them writing everything down that you said and that of course your information will fill an entire page! At least!! I remember the first time I went on television and I planned out everything I would say, complete with props and was then told the segment would be four minutes! Four minutes? That can't be! I have so many great travel tips, I could use the entire half hour! But alas, I'm not complaining! I'm in O Magazine! And, did I mention it's in a little section called, "101 Best Pieces of Advice-Ever!"?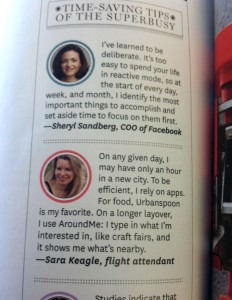 Here I will elaborate on why I use apps when traveling as time saving tools:
Your airlines app: If you haven't already, download your airlines app. Some airlines are better than others, explore what yours will do before you head to the airport. This will help you save a ton of time since it is usually current and accurate information. I use mine when I'm working to check for gate assignments and delays. You can also use it to check for your seat assignments and open available seats.
My TSA Lets you check for updated restrictions and wait times at US airports. It even has a great guide about getting through security with categorized information including traveling with children, military personnel, special medical needs and more. I love the section called "can I bring my…" it lets you fill in the blank then answers the question.
Urban Spoon I use this app on layovers in new cities to find places to eat. It's a lifesaver on short ground times at airports I'm not familiar with. If you have a stop over at an airport and have time to grab some food but, not a lot of time to figure out what and where, use this app upon landing and you can plan your route to your next gate accordingly.
Airport Maps Speaking of planning out your route. Your airlines inflight magazine probably has a map of the terminal you're at. You can also download this app and have most major airport maps on your mobile device.
Evernote Is a great notebook app that allows you to take and organize notes without having to pull out a notebook and pen. I use it for taking notes on things I might want to tell you about here on my blog or my podcast The Crew Lounge.
XE Currency If you're traveling to another country this app gives up to date information on exchange rates. Type in your currency on the top and click on the desired exchange and it will convert it to whatever that currency is.
Around Me I use this app all the time on layovers in great cities. I'm able to find any special events going on like art festivals, outdoor concerts, flea markets and more. It also lets you find local conveniences like ATMs, coffee shops and movie theaters.
There are actually a lot more great travel apps out there but, these are a few that I find really help with saving time. I find travel to be a lot less stressful with a little preparation. What are your time saving tips? You can also join the conversation on Facebook, Twitter, and look for my favorite travel things on Pinterest. Cheers and Happy Flying!