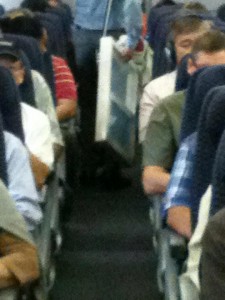 I have actually seen a kitchen sink come on board an aircraft and statues of every kind! Some even made of marble. I get it. It's cheaper than Fed Ex, if you happen to be flying anyway. My favorite thing I've seen was a Muppet someone had made in New York City. Luckily it fit in the overhead! Here are a few things you can bring on board an aircraft but, are better left behind. Your fellow passengers will appreciate it!
Smelly food: Yes, it is recommended that you bring your own food but, leave the tuna behind!
Dirty Laundry: Seems obvious but, if you have a long day of flying and you tend to sweat a lot you may want to bring a clean shirt to change into.
Noisy games: Having an i-pad is great entertainment for the whole family. Just make sure you have your headphones on when playing Angry Birds.
Noisy shows: Same goes for your daughter watching Dora. Most passengers don't want to hear what you're watching.
Framed art work, sculptures or wedding dresses: You can take a chance with these items but, some planes just won't accommodate them. You're also relying on the flight attendants to be cooperative. Most will if they can but, risky for things that are valuable or important to you.
And, just in case you think outside the box! Here is a list that of things that some flight attendant friends have seen come on board their airplanes!
Kathe: A window. (see pic above)
Heather: a microwave they sat on. they thought no one would notice they were almost two feet taller than everyone else.
Lisa: Ummmmm how should I say this …. Adult toys …lets just say one fell out of someones bag and was in the middle of the aisle.

Catherine: 5 foot ficus tree in a pot soil and all!

Deborah: Bull horns. Not bullhorns but 6′ long bull horns. To make matters worse, we were backing out when the family of 5 realized they were on their way to Boston, not Auston, like they thought. They unpacked their horns and headed towards the exit while taxiing. Wish there were iphones back then….

Tammy: Hamster in a Duncan Donuts box.

Marvin: A live rooster in the business first closet on a manila flight out of Guam. Had no idea till Grampa asked me for some water for the rooster.

Richard: A 3′ by 4′ tall model ship! Luckily it fit in the closet!

Sloopy: An elephant end table, a military saber, Ammunition cartridges filled with bullets( which fell out of the overhead and hit me in the head), numerous ice chests, bag of rocks and the list goes on.

Leah: 4 Rims for their car…. in the overhead bin.

JoAnn: Not a kitchen sink but a bathroom sink. OMG! Just cracked up!

Jerrie: Part of a transmission to a car!
Janice: I had a Passenger on my flight sitting in the emergency exits row with a huge sombrero. I told him to wear it. His friends thought my recommendation was hilarious.
Darla: Car tires!
Jana: My favorite? The time I bent down to remind the sweet old lady that the dog in the carrier by her feet needed to stay inside the cage only to discover that it wasn't a dog because it had HORNS! It was a goat. When I tried to explain that she would never get that past customs, she started patting me on the head saying in Spanish "es la misma cosa" which means, it's the same thing. It was Christmas time. Don't wanna know where the goat was going…
Deborah: Bag of fresh fish in a Hefty bag with ice
Moya: one of my flying buddys brought on the most gorgeous , humongous, pink crystal chandelier we found n Brussels at the flea market, would not fit thru xray machine…lol
Kirk: A 4 ft tall statue of the Sacred Heart Jesus with arms outstretched……guess who got a first class seat?
Katia: a pair of "competition legs" for a paralympics athlete.
Heather: I have seen mufflers, coffee tables and a front door.
Mark: A lady coming from Asia brought 2 coolers of kimchi. They were stowed in the mid galley closet on the 757. At first it smelled like 12 people were eating egg salad sandwiches. Within an hour…the stench was unbearable. People were gagging.
Monica: Box of baby ducks …we just wanted a peek…didn't know that box of quackers could be so fast …!
Cole: The other day and man handed me 2 small boxes, telling me that he needed his medicine refrigerated. I told him we didn't have a refrigerator and that we don't handle medicine. He wanted to refrigerate his erectile dysfunction medicine.
Trish: A gas can full of clothes & toiletries.
Alicia: Fender for a Toyota Celica in the overhead bin.
Christi: I had a guy upgrade himself to first class because he said his penis was too big to sit in coach. Does that count as a weird package?
Fly Girl: a laundry hamper…..with the laundry in it!!
Barbara: A bowling ball! On landing it went through the cockpit door.
Scott: Frozen Thanksgiving Turkey in the overhead bin.
Donna: Stuff dead cat
Phil: Three Cases of SPAM
Michelle: Had a guy try to bring a chainsaw on the plane and when he could not, he walked to the curbside and flagged down a car going by and offered it to them. They took it! He said they he didn't have time to go somewhere and drain it and ship it. Said it was a $600.00 commercial saw. I actually felt bad for him.
Susie: A surf board.
Brooke: rollaboard full of sand from the beach….kid you not.
Melody: I saw a man with a rooster in his pants. I was a new hire flying home from Honduras. I shouted to the flight attendant to stop the plane- We were backing up out of the gate. She said, is it a chicken? I said no a co**. True story…
And, drum roll please! ……
Eva
: A mother and son-in-law trying to bring the father who had passed that morning as a passenger in a wheel chair as it was cheaper than shipping the body. And, she's not the only one!
Moya
: A dead body…I am not lying…was their grandma and they could not afford a tix for her, from a Central American country, very sad story actually…this is all back in the 70's when we had walk in type closets.
Happy Flying!
You can purchase the sombrero here. Just leave it home when you fly;)