Flying with everything you need is a balancing act, especially if you are flying with small children and babies. It's a fine line between having all the necessities and being over loaded. The airlines are making harder and harder to travel with everything you need as they get tougher with the carry on regulations. Seems they are enforcing the rules a bit more these days. One thing to remember is that with each seat you pay for you are allowed one personal item such as a purse or diaper bag and one carry on, which would be your roll-a-board. This is the case for most U.S. based carriers. So, what do you do if you are traveling with little ones under two as lap children and you'd like to bring a cooler filled with snacks, but the bag allowance just doesn't allow for it? I'll tell you what you do, super travel pros, you fit the snacks in your carry on! I personally tested a few bento style lunch boxes in search for the perfect one that not only fits in your bag, but is leak proof too. I purposely chose the lunch boxes that contained everything as one larger piece instead of a bunch of smaller containers. I think this is a much better way to pack and also makes it easier for snacking on the tray table or in the gate area, if need be. Here is what I found: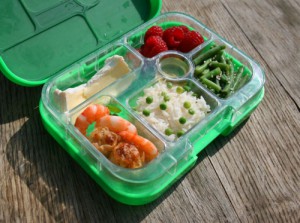 Yumbox: For me this is the clear winner! Of course invented by moms! It is the perfect toddler size box to have a nice variety of nutritious snacks for your little ones. What I love most about this little gem is that it is truly leak proof. The proof? We packed yogurt! (actual liquids are not recommended, but sauces & yogurts work) My daughter who just turned seven, gasp, loves this little box too, she enjoys packing it herself. She was able to comfortably fit it into her own small backpack (see photo above) and carry it herself too….something that seems to be extremely important these days:) The yumbox is a permanent travel companion for us!
Planet Box: It's a close second for me and if you have older, hungrier kids this may be a better choice for you, but it's size gets in the way and takes up valuable real estate in your carry on. It does fit though, so if you are a packing pro, you can manage it. This is my favorite school lunch box so far but, I hear my friends at Yumbox are coming out with a larger box themselves so I'm excited to see what they turn out! The other con for me is that it is not leak proof like Yumbox. Each separate compartment will spill into the next leaving yogurt, canned bean, dressings or sauces as a no go item.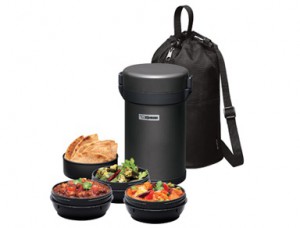 Zojirushi Mr. Bento Stainless Steel Lunch Jar: If your travel day is a long one, say more than six hours of flying time, this is the one to make room for. I don't recommend it for shorter trips because it is cumbersome, but if you are settling in for a long haul flight you'll be happy that you have some of your own healthy food to get you through. With careful planning this will fit in a carry on, it is leak proof and you can even bring soup in this one. It's like having a picnic in flight!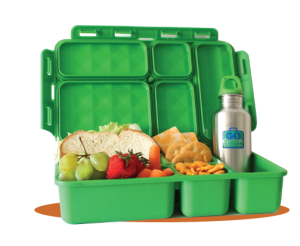 Go Green: This box needs some tweaking, in my opinion. It's large size rules it out of air travel for me, but it could be an amazing schoollunch box. My daughter is always starving it seems so I love the size for school. It is leak proof like the Yumbox, but so much trickier to open. You have to unsnap all four sides of it and then the cover is held on by strings that keep it attached to the box. It is difficult for my daughter to open on her own. I do love some things about the design, there is a cute white board on the inside cover so you can write your child notes and even a place for the water bottle on the inside.  If they'd make one a bit smaller it could work for air travel.
So there you have it! How do you travel with snacks? Do you have a method that works great for you? We'd love to hear about it! Join us on Facebook, pinterest and twitter! Let's keep the conversation going!
Happy Flying