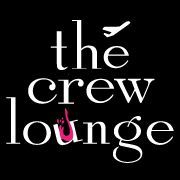 Popular Flight Attendants: Sara Keagle, of TheFlyingPinto.com, and Mimi host The Crew Lounge. The podcast offers listeners a unique look into the life and career of a Flight Attendant.
Taking the format of a talk show, Sara and Mimi lead a panel of Flight Attendants through a discussion surrounding airline news, important events, interactions with passengers, layovers, as well as interviews with noteworthy guests.
You can subscribe to the podcast for free in iTunes by clicking here, or you can visit The Crew Lounge's website.
Hey Guys great podcast…very funny! It's nice to know that you have a good time now and again! Hey liked that accent on Mark, was that his name?… the guy from MA! I was disappointed there were no bloopers…I guess you had em all in the podcast! Really enjoyed it.

Hey, I was hoping that you would test out my line of coolers. I would love to send you one to test out and then you could rate it. If you like it you can keep the cooler or give it away as some kind of promo. Either way you are not out anything. I would even give your readers a 10% off promo code if you find that the coolers are flight attendant friendly. Please let me know what you think.

Best regards,

Chris Sutphen

Hi, Soon will be opening a Hotel and right now I am planning a Lounge for airline Crew Members (Pilots and Flight Attendants; a lil corner to rest and relax between flights. I would like to know from you and other colleagues what kind of food and beverages, snacks, … you are looking for when you relax at the lounge. I have many ideas, but it will be nice to hear your opinion (such as from other Hotels like/dislike)and suggestions. Thx, FRA

My comments are very positive regarding flight attendants who are there primarily as pilots announce, for our safety. As a frequent traveler for the last 12 years , they do an outstanding job given their daily schedule and we should all recognize that domestically, our flight experience is about 1-4 hours while theirs is day to day!
In all cases where I can, I resolve the situation diplomatically and if required, flight attendants handle each in a professional manner. Let anger take a back seat to diplomacy.
Such situations self-handled include while sitting next to me, clipping nails, drapjng bare feet over passenger next to them in my direction within 18 inches of my face, stocking foot on my arm rest within 12 inches of my face, the latter 2 both in first class!!
Chronic complainers, over-stuffed bins, using nail polish remover within the cabin (gee let's let them figure it out or I don't care mind-set) handled great!!
Folks, your flight experience is limited and let's recognize that the flight attendants help us for our benefit and we should be cognizant of our actions! Comments are made one human to another.

Hi, im 17 years old and need to have an email interview with a flight attendant because its a career im very interested in and its some English essay assignment. Please email me at [email protected] if any flight attendants have to time to answer 5 questions about their jobs 🙂

Hey! I have a question on which I hope you could give me an answer. Me and my husband are interested in applying as flight attendants, is it possible to work and fly together on the same plane?

Thank you!!

Best regards,
Valentina.

I'd like to comment as a passenger sitting in 1A on a Delta connections flight from Atlanta to Augusta last week, the flight time was about 1 hour. there were 50 people on the plane with one flight attendant.
The flight attendant came on and apologized that due to the limited duration of the flight no beverage service would be provided.
Upon completing that statement, hung up the microphone, walked to the bin over my head, pulled out a black carry on item, took it to the galley in full view of me.
Pulled from it a large tub of cottage cheese, a tupperware container of mixed fruit, used all the utensils on the plane, the counter, bowls/silverware/etc to whip up for herself her meal.
After whipping up this concoction held a quart sized bowl and spoon, backed herself up to the bulkhead in front of seats 1C/D and proceed to feed herself for much of the flight. Then when finished undid the whole meal putting the carryon back over my head!
Hmmmm. She stood in the galley nearly the whole trip, never once mingling or doing anything except feed herself. It wasn't like she was heavy or anything… just where's the attention to the passengers for this F.A.?