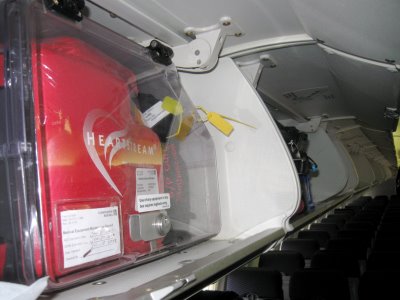 I have a myriad of responsibilities as a Flight Attendant and one of them is handling medical emergencies. Most people actually don't know how much training goes into being a FA. Tonight I was reminded just how important my yearly recurrent training is when I had an on board medical emergency. Thankfully, our passenger was fine but I thought I would share some information with you that should make you more comfortable and secure knowing what resources are available to FA's on the aircraft and what we are actually trained to do should an emergency arise.
First Aid Equipment on board every aircraft:
AED

(Automatic External Defibrillator)
Oxygen
First Aid Kit
Enhanced Medical Kit (to be used by medical personal)
CPR masks
Blood pressure cuff
Universal precaution kit
What FA's are trained to recognize symptoms of and treat:
burns
bleeding
nausea
allergic reaction (

anaphylactic

shock)
cardiac arrest
child birth
choking
seizures
decompression illness
diabetes
eye injuries
fainting
food poisoning
fractures and sprains
heart attack
heat exhaustion
heat stroke
hyperventilation
hypothermia
hypoxia
shock
stroke
Other resources on board:
Med Link (med link is a hospital that our airline pays a yearly fee to) In the event of a medical emergency they are contacted and after presenting the patients symptoms to the Dr. on call, we follow his/her advice. Med link makes the decision on whether we will divert or continue on. If we have medical personal on the aircraft and they consult with med link, they are then covered by insurance,

should anyone decide to sue them

. (

FA's

are covered by the Good Samaritan Law)
Most times we have medical personal on board as a resource. Doctors, nurses, E.M.Ts or paramedics are all great to have as passenger's: )
Our FA

Inflight

Manual has a chapter on first aid should we need to reference it.
I think another useful piece of information is what the A.E.D. actually does. A lot of people think it will re-start a stopped heart, it does not. The A.E.D. is a device that interprets heart rhythms and can deliver an electrical shock to the heart when needed.
There is also a difference between a Heart Attack and Cardiac Arrest:
Cardiac Arrest that is treatable by the A.E.D. is known as ventricular fibrillation it occurs when normal beating of the heart stops and the heart begins rapid, ineffective contractions which fail to pump blood through the body. Unless normal rhythm can be restored, the condition can be fatal…this is where the A.E.D. comes in. It restores the normal rhythm, it does not re-start a heart.
Heart Attack: Also known as myocardial infraction, a heart attack occurs when part of the heart muscle suddenly dies due to lack of blood flow, causing chest pain and decreased circulation. Here is where the relation to cardiac arrest comes in…a heart attack may ultimately lead to cardiac arrest and death.
One last piece of advice for those of you who have known medical issues:
make sure your medications are in your

small

carry on….should the overheads fill up and you are forced to check your larger bag at the last minute and your

meds

are in that bag, you may forget to grab them in all the commotion.
Please write down what your medical conditions are and list any

meds

you take and any food and drug allergies you have…even if you are traveling with someone else who knows this information because under stress and worry they are usually not too helpful with remembering information.
I hope this information is helpful, please let me know if there is anything else I can clarify on medical emergencies or our training in them, otherwise sit back, relax and enjoy your flight….your FA has your back 😉