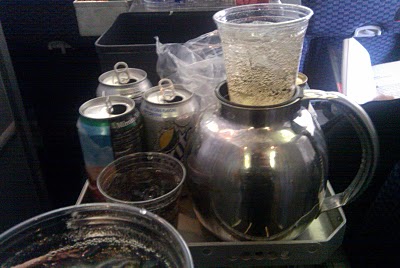 When I got the google alert, "Five Reasons Flight Attendants Should become Wal-Mart Greeters" a post by Tom Johansmeyer on Gadling I decided, I've read enough articles and posts claiming how poor flight attendants are and how bad we have it!
Everywhere you look there's an article on how horrible the job of flight attendant is. Then why do so many choose and stay in this career? Why is only one candidate chosen out of approximately 8,000* applications? I've decided to counter Johansmeyer's points:
1. The financials
While a 70-hour work week at Wal-Mart, at $25,375 (with no overtime pay), does fall short of the $35,000 or so average flight attendant compensation, it does stack up against starting pay at some carriers reasonably well. And let's face it: you can't expect to start at the top, right? Now if you build in some time-and-a-half, you're looking at $39,875 in greeter pay at minimum wage. My advice: flight attendants choosing this route should opt for a Wal-Mart location that is short-staffed.
The Financials
The career of a flight attendant is so diverse that it is impossible to give an average. I can tell you that I know flight attendants that make next to nothing and flight attendants that make well over six figures. Yes, you read that right and I do know them personally. True they work long hours, about twelve to thirteen a day and only have about eight days off a month, but how many people, who make that kind of money don't work long hours? The airlines in the U.S. pays their flight attendants on average $20 an hour to start and top out after ten to fifteen years at around $50 an hour. If you multiply that by the average monthly schedule of eighty flight hours you can get the idea. Yes, it's a rough start, but if you start your career young and you rent space in a crash pad for a couple hundred dollars a month and travel it's not so bad. A few years later you arrive at a livable wage with a lot of days off and tons of flexibility (more on that later).
Also, consider the fact that we fly for free or close to it. (depends on the airline) A benefit I treasure and use almost monthly. Did I mention my spouse, children and parents also enjoy free flight? How do you put a price on that? We'll use JetBlue's all you can jet pass as an example. I believe it's $500 per month, so lets multiply that by five people using my passes. $2500. a month added to my monthly income. Not bad. And, probably way under what it is actually worth. Did I mention I've flown in first class to Europe more times than I can count? Or that my daughter at three years old has her passport and has flown/traveled more than twenty five times?
The flexibility is also something I have a hard time putting a price on. Can you decide to work more or less depending on your needs? Every month flight attendants bid their schedule and at my airline we fly as much or as little as we like. Some flight attendants drop down to zero hours and as I said some fly about 200 hours a month. I usually share a schedule with another flight attendant so I am home most of the time with my daughter, but should I need extra money for an unexpected vacation, or expense? I pick up a trip. Flight attendants are also able to trade their trips amongst each other or with a pool of open trips in the computer due to vacations, sick calls etc. We also pay each other, I've been on both sides of this coin. A few years back before my child was born my husband was scheduled to work Christmas. I looked in "open time" for a trip and another flight attendant was paying $600. for someone to pick up her three day trip that worked over the holiday. Feeling a little guilty about taking  that much mone money I called her and voiced my concern. She said, "Don't feel bad, I haven't had Christmas off in 8 years and my entire family pitched in so I could stay home this year…enjoy!" My husband and I both worked Christmas day, but the week before we checked to see what destinations had (first class) seats available and jaunted off to Cabo San Lucas.
Are you starting to get the idea? It's not a career, it's a lifestyle.
2. No prolonged customer exposure
While a flight attendant can be trapped working on a plane for hours with the same loathsome people, the greeter only deals with customers on the way in and may notice them on the way out. The interaction is fleeting, making it difficult to become annoyed by the personality types that can stand out in the cabin three hours into a trans-Atlantic flight.
Contrary to popular belief, most flight attendants like people. It's one of the main reasons we chose this profession, that, the flexibility and the travel benefits. Funny though that we do always say one of the best parts of our job is that if there's a difficult person on board, once we land they're out of our lives for good!
3. Still responsible for safety
As any soldier will tell you, it's tough to move from a job where people's lives are on the line to one in which what is considered a high priority doesn't involve the risk of fatality. I'm sure this is an issue for flight attendants, as well. The good news is that WalWal-mart in Queens if you need proof. Also, there's always a chance one of the "People of Wal-Mart" will have a heart attack before making it through the door. Time to spring into action!
Tom is right, Flight Attendants go through extensive training and that includes first aid. Although, I am prepared to help it is not the reason I fly, no soldier mentality here. If you want to read about what our training covers and what tools we have on board to handle medical emergencies read my post: "Everything you wanted to know about medical emergencies" Another funny thing is I've thought about starting a blog called, "People of Air Travel" but I think I would need a secret camera for that!


4. No union nightmares
Flight attendants who lament insufficient union protection won't have to worry about that at Wal-Mart, which isn't exactly friendly to organized labor. If you think something of value is lost in this arrangement, look back to point #1 above. Flight attendants looking to trade one polyester uniform for another will get by just fine with federal minimum wage protection.
Many do gripe about unions and not all flight attendants at all airlines are union members. Also, as I said, not all flight attendants make minimum wage. (look back at point #1) Oh and the uniform is a poly-wool blend…that I would like to talk to my union about;-)
5. Nobody's griping for an upgrade
Why not? Well, I have no idea how you could possibly be upgraded in any Wal-Mart transaction. So, you can be sure the usual collection of white-collar business travelers won't be bothering you at the door for priority of entry or a better shopping cart.
This is actually not a problem for flight attendants because we don't upgrade anyone. It's all done at the gate. Care to write a post as to why gate agents should work at Target?
*Sorry I originally stated 1 in 80,000…typo…I don't have an editor;-)
Interested in becoming a flight attendant? Have an interview lined up? I'm offering phone consultations,  we'll go over how to prepare for your interview, your appearance, the type of interview questions they will be asking,  and how your previous work and life experience can be highlighted to fit the job requirements of a flight attendant while leave time at the end for your questions. The fee is usually $90 for the hour long session but, I am running a special for the summer at $50. Email me at [email protected] for more information.