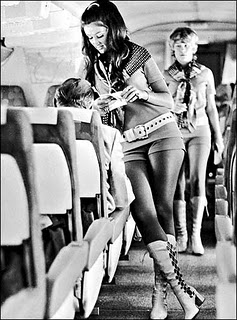 Hi,


I recently found your blog and I found it to be very interesting and enjoyable. I have a question-I fly pretty often and I noticed that many of the female flight attendants seem to dress very provocative. Whether it's the high heels, extremely short/tight skirts, tight/revealing/low cut blouses or all of the above! Do they dress like this on purpose-to entice the men? I happen not to mind because it gives me something to look at when bored: ) but just curious why they do it.


Of course I have seen plenty of FA who don't dress this way but my question is on the ones who do.


Eagerly awaiting your response!
Dear Eagerly awaiting my response,
Thank you…
Sorry, it took so long for me to respond, but you know I'm extremely busy shopping and preparing for my flights all the time. What with all the accoutrement's, the heels, hair, nails, false eyelashes, false other things…not!
Seriously, I'm not sure what airline you frequent, but I never see Flight Attendants dressed provocatively. Some look great in their uniforms, I'll even say I've seen a few look somewhat sexy in a polished way but never provocative. Not in the U.S. anyway. I do remember seeing some Brazilian  Flight Attendants in Italy once, they literally shut the airport operations down on the tarmac as they walked by in their fur cuffed jackets, short skirts and boots. Even so, I'd still say they were sexy not provocative.
If you happen to be time traveling back to the 70's I might agree with you. The Flight Attendants, then called Stewardesses dressed pretty hot back then and were even "sold" that way in commercials like this one:

But today? The polyester/wool blend I sport is a far cry from yesteryear. The only U.S. Airline uniforms I even like these days are Virgin America and Delta.
If I can offer a bit of advice? You say you enjoy looking? Well, that's fine, but on behalf of my sisters please leave it at that and don't make any unnecessary comments. You're sure to become "galley gossip" if you do.
You can find out a little bit of history on flight attendant uniforms "here" and a great collection of uniforms "here" if you're interested.