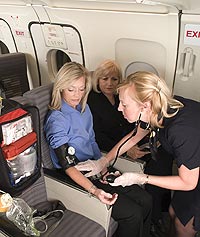 This weeks question comes from Mike. Mike will be flying from Germany to the U.S. and suffers from panic attacks, here is an excerpt from his e-mail:
Mike: "My fear is having a panic attack on the flight, have you ever had a customer have a panic attack during a flight? And do you have any advice for staying calm on the plane? (I am not afraid of crashing or anything like that.)"
FP: Although, I can't offer you medical advice, (I'm not qualified) I may be able to ease your fears. Flight Attendants are trained and prepared to handle all kinds of medical emergencies. (see "everything you ever wanted to know about onboard medical emergencies") We have a lot of resources on board including a first aid kit, a medical kit, an AED, and a service called Med Link that puts us in touch with medical personnel on the ground.
I have never personally dealt with a panic attack but know flight attendants who have. It would help if you let your flight attendants know about your condition upon boarding and to also have an index card in your carry on that explains your medical condition and any allergies you may have. If you have a service animal for your condition keep in mind that they may accompany you on the flight.
Hopefully, knowing that flight attendants are prepared and trained to help you will ward off any panic attacks. Have a great flight!