I get a lot of emails asking me about flight attendant training and I thought who better to hear about it from than someone in training right now. I'm excited to introduce Jet, a flight attendant candidate who has agreed to chronicle his way through training all the way to new hire for us. Coming from an airline family, Jet knows all to well about how "flying" gets in your blood! Jet will be based in Vancouver ( YVR) and has started his own blog at, www.thesegoldwings.com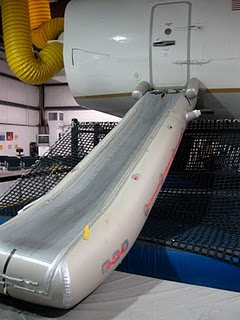 So, hang on tight! Training can be a bumpy road! Hope you have those airport codes memorized already!
I've only just gotten started, my first class was last Friday and was more
of an orientation and administration session. We were introduced to the
airline, a few of the VPs of the company called into my class to introduce
themselves and welcome us, we filed all the necessary paper work for
accounting and security clearance, and all that Jazz. What I really enjoyed
about that day was that I finally got to meet my classmates! I had found a
lot of them online so it was great to see every one's faces. I was offered
the Flight Attendant position with the airline at the start of September so
I'm tickled to finally be starting in this career.
On Monday we got into the full swing of things. We got into the classroom
and began reviewing our pre-class handouts. Before starting class we were
expected to know things like common airline terminology, the phonetic
alphabet, airport codes, weather phenomena's, fundamentals of flight, and so
on. About halfway through class we were also given our Flight Attendant
Manuals. They're the size of bloody phone books! We spent most of the day
reviewing our pre-class information in preparation for our first of many
exams, which would follow the next day. We were also given a little
information about some of the hands on training we'll be receiving. Things
like learning to evacuate an aircraft, fighting fire, and handling medical
emergencies.
Bright and early on Tuesday morning we had the exam. A couple of the
questions dug into some tricky aviation regulations, but I managed to pass
with 100%. A huge relief since 90% is the passing mark. If we score between
80%-89.9% we can rewrite the exam, but 100% is required to pass. If you
score less than 80% or don't get 100% on a rewrite then you fail the exam.
If you fail any exams you are considered unable to retain important safety
information and are not allowed to become a flight attendant. Can you feel
the pressure? Preparing for the exam was pretty nerve wracking, but it felt
great once I passed.
The remainder of the day was spent on aircraft familiarization. A good hour
of which was dedicated to the cockpit door. During the lesson we were
treated to a visit by the president of the company! He welcomed us to the
"family", took a few questions, and was on his way. After getting back to
the lesson we got through about half the chapter, and were assigned to read
the whole chapter for homework. Fun times since it might be considered the
length of a short novel! I kid! Although it is the longest chapter in the
manual. We'll finish reviewing aircraft familiarization tomorrow, and have
an exam on it Thursday morning.
That brings us to now! By the time this is posted I'm sure I'll be in class
learning the rest of the chapter. Be sure to tune in next Thursday for the
exciting continuation of my journey through training.
-Jet