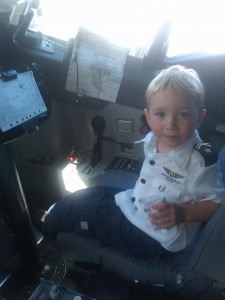 Should babies be allowed in First Class? This is a very popular subject and one that comes with a lot of opinions. I recently asked the question on Twitter after the news came out about Malaysian Airlines not allowing children under two in their first class cabin. Here is what a few had to say:
@Cassivella YAY! Ban then from the first two-thirds of rows in the plane
@SouthrnCharm I have to agree with the decision – people spend a lot of money for the experience, not to have it ruined by scream tots :/
@navyaircrewman I'm surprised it's taken this long. No fault of the kid/parents but 1st class tix are $ & those who can afford it are picky.
@littletravelbug some adults can be more annoying than crying babies. Can they ban all loud mouth idiots instead?
@alextaveira Great idea…about time it happened.
@JohnRandalScott I think it's a great idea! I understand both sides of the argument, but I think ppl paying that much $$ should have peace
@adam_polak Ooooh that would be wonderful! I fly for a North American airline.
@Bachelorsaurus If the parents paid no problem. But lap children shouldn't be allowed. Ever.
@Sassystewrants If you can't equalize your ears on your own, no flying for you! (re: babies & small children) lol
The subject of babies on a plane always comes with strong opinions.  My feeling is that most people are in first class because they are frequent fliers, people who are traveling for business. They are the bread and butter of the airlines usually trying to get work done or relax between business meetings. Full fare first class passengers are a rarity, so I think it is reasonable to not allow children in first class. My airline has a rule in place for employee travel that allows non-rev (pass travel) children over six the privilege of sitting in first class (with an adult and provided it's available) This to me is an acceptable age for first class travel because children have more control over their emotions at this point. It is not reasonable to think that babies won't cry and toddlers won't have melt downs, but once a child is six I think it is fair game. After all, I have five children sitting in my first class cabin as I type this and they are all much better behaved than some of the adults I encounter these days!
What do you think? Should there be an age minimum for first class? And, how about Las Vegas? Should kids be allowed on flights to Las Vegas?
Creative Commons image courtesy of elvissa