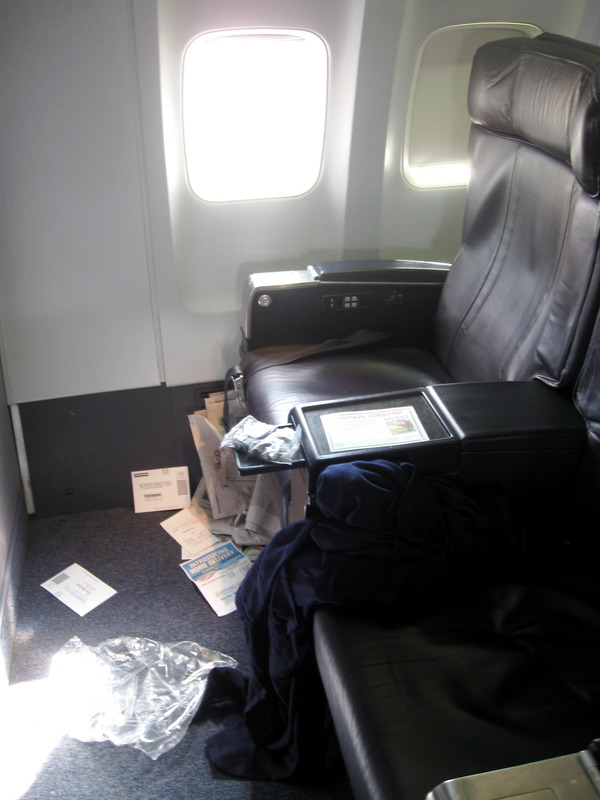 Before you read this post you have to take a minute and read Christopher Elliott's post, "Do Flight Attendants Really Hate Us?" So go on…and then come back please.

When exactly did passengers stop caring about us?
I ask for two reasons: First, because of the luscious new trailers for the upcoming TV show Pan Am, which depicts passengers dressed in their Sunday best-yes, that's what they did back then-dressed for travel.
Hard to swallow, that one. But, yes, they dressed to travel back in the day.
And, second, because of the preponderance of horror stories from the news that suggest things have gone too far in the other direction. That far from the "please, thank you, and may I" stereotypes of pre-deregulation air travel, modern day airline passengers actually hate us.
Well, "hate" may be too strong a word.
How about "strongly dislike"?
Consider this flight attendant survey of the 10 worst passenger behaviors.
Not turning off electronic devices when asked
bringing bags so heavy they can't lift them and then expecting flight attendants to do it for them
poking, grabbing or hitting a flight attendant to get their attention
taking their shoes off and putting their bare feet on the bulk head wall
changing baby diapers on tray tables
handing a dirty baby diaper to a flight attendant and then getting mad when flight attendant doesn't take it.
first class passengers using hot towels in place of a shower, ie, clean feet and underarms
not taking their earphones out when a flight attendant is asking them a question, usually "what would you like to drink?"
blowing their nose and handing the flight attendant the tissue
clipping nails on tray tables
That's the top ten. You have to work pretty hard to pull in that kind of performance, and it can only happen with the loss of civility.
But, it's the stories from crew like you that make me wonder if the love has turned to hate. And, I'm not even talking about the head-grabbing reports like Sandy (Robert) Vietze who earned the nation's ire this week for peeing on a sleeping 11-year-old girl while aboard a JetBlue flight or Gerard Deepardieu allegedly relieving himself in the aisle of a plane.
A flight attendant was doing her job aboard an American Airlines flight when she noticed a passenger, Jonathon Baez wasn't buckled up.
She tried to get Mr. Baez to comply with FAA regulations, but he was uncooperative and appeared to be intoxicated. The captain was notified and made the decision to remove Jonathon from the airplane.
On the way off Jonathon and his brother allegedly threatened the pilot that if he ever flew to San Juan he would have him killed.
Not the end of the story as Mr, Baez decided to return to the plane and punched the pilot and struck the flight attendant.
Then there's the airlines that tell their story of pilfering passengers and their callousness. Gail Todd a freelance writer who used to be a flight attendant tells us her tale, "Several years ago, on a flight from St. Louis to Seattle, I had a first-class passenger (I mean that only as a seat designation) ask to keep a silver spoon. When I told her we weren't in the souvenir business, she snapped, "Next time I'll just take it!"
Or how about Kyle Pierce? The passenger that allegedly decided to join the mile high club single handedly?
I get stories like these on an almost daily basis, from passengers who refuse to comply with the rules set forth by the FAA, to customers just being indifferent or just plane rude.
As you can imagine, passengers see this differently. Some say flight attendants are too demanding, insisting on polite behavior and smaller carry on bags.
"Somehow, people still compare us today with how things were in the 1950s and 1960s and then are upset when those expectations aren't met," passenger Mike Smith says. "These programs, such as the upcoming 'Pan Am' TV series and movies like 'Catch Me If You Can' and 'View From the Top' portray a level of behavior in the industry that simply hasn't existed for decades."
Smith told me the average passenger loves to fly and is happy to comply "within reason."
When you combine the airlines' need to cut costs and salaries and employees having the expectation that since they are not getting paid enough, the flight attendant doesn't have to put up with passenger abuse, it's bound to end up a recipe for disaster," he says. "And at 30,000 feet there is very little a passenger can do to fix some of these issues other than say "please" and "thank you" and hope for a "your welcome" from the flight attendant."
One other thing: Passengers are under a great deal of stress because of increased waiting at security lines, continually changing rules, less amenities, less leg room and more crowded aircraft. But Smith agrees that there's never a reason to forget your manners.
I agree. I think there are plenty of reason for the passengers to be unhappy, but none to be impolite. I'm especially troubled by a saying that's used a lot, most privately, among passengers: "I'm not turning it off, it doesn't interfere with the flight!"
If the "manners" element had actually been stripped out of the passenger's behavior, then why not let monkeys fly? Wouldn't they do a far more efficient job of complying with the rules set forth?
No, I don't think all passengers hate us. But too many of them seem to, according to flight attendants.
That's no way to fly.
Questions? Want to know how much I actually do love my passengers? (because I do…And, I actually still serve passengers on the plane with my fellow flight attendants too…shocking:)) Visit me on Facebook/theflyingpintoblog or twitter @theflyingpinto