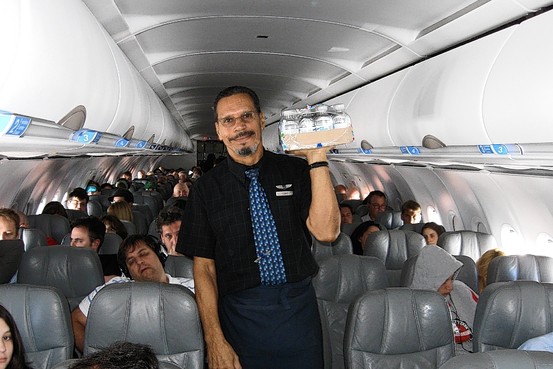 I made my way down the aisle, sick bag in hand, open, holding it in the air, catching the wind as I walked. Half way a passenger stopped me to ask "what are you doing?" I gave him the "wait a minute" finger and kept walking because what I was doing was very important!
Or so I thought, but as I knocked on the door to the cock pit to turn in the "air sample" I just collected and noticed the flight attendant next to me laughing so hard she nearly fell to the ground. The first officer opened the door and there was more laughing. I was only grateful I didn't answer that passenger's question and embarrass myself further!
I was a brand new flight attendant, I was young and naïve and I thought the pilots knew everything! The Captain had asked me for the air sample, sounded strange to me, but who was I to question an airline captain? Had I joined an airline or a sorority? The truth is there is a certain amount of hazing that goes on when you are a new hire at an airline, only nobody warns you! My next flight, as I held up the safety information card during the safety demonstration, I noticed people beginning to chuckle cialis holland apotheke. Then the whole section in front of me was hysterical. I turned bright red and laughed too, but went on with the demo. I made my way to the back galley and the flight attendants were once again laughing hard enough to pee themselves. I knew it happened again. They got me. I looked at the demo card. When I opened it up, it had a piece of paper stuck to it that read, I NEED A DATE!
As I was writing and remembering all these pranks I had to wonder, did others fall prey to the same pranks? What were some of the other things new flight attendants fell for? I couldn't remember so I asked some flight attendant friends here's what they had to say:
Nichole: "Omg! I remember when the pilots told me to come into the cockpit and look at the telescope at the stars. It was actually their reading light! LOL!!"
Kim: "I remember (at my first airline – a commuter) a pilot asking his flight attendant to go back into Operations because he forgot the keys to the plane on their desk. LAME! But funny. She went. :)"
Scott: "We used to sneak a sick bag full of Dinty Moore beef stew to one of the pilots before sterile cockpit and upon arrival at the gate, the pilots would call the newbie in, and the Captain would hand over the airsick bag saying "I got a littly queasy on approach." the FO would grab the bag before the flight attendant could, open it, fish out a big juicy morsel of the stew, pop it in his mouth, look at the horrified flight attendant with a grin and say, "Hate to waste good chow!" and hand the bag to him or her. The new FA invariably spent the rest of the ground stop in the lav retching :-)"
Christy: "Ops Agent handed me a napkin and asked me to make a PA asking for this passenger (right before pushback) name on napkin "Ineida Mann""
They got Christy more than once too:
"Capt made a PA telling all of the passengers that I was new and that I had a degree in cartography and a master's in topography so if they saw a river or mountain or anything that they were interested in and wanted to know what it was, to please ring their flight attendant call button and ask for Christy 🙂 there was a lot of dinging and asking for me on that flight."
Lisa: "My first airline was a regional and I was the only flight attendant on the plane. On my first flight the pilots told me the landing gear was a little stuck and not coming down, but not to worry this was common. All I had to do was go to the back of the plane and jump up and down to loosen it up! A passenger got up and helped when I told her what I was doing! Can you believe I married the first officer? We still laugh at that story!"
I was happy to hear I wasn't the only one! Am I bitter about all the pranks? No. I actually had a good laugh remembering all the things we used to do. Times have changed in the airline industry, it's good when we can still have fun and not take things so seriously!
Questions about air travel? Join the conversation on Facebook/theflyingpintoblog or twitter @theflyingpinto You can also visit me at The Crew Lounge where we discuss what's really going on behind that galley curtain!
Photo courtesy of LACP.org (Jet Blue hires ex cops…hmmm…wonder if they get asked to collect air samples???)
featured image courtesy of pixiq.com