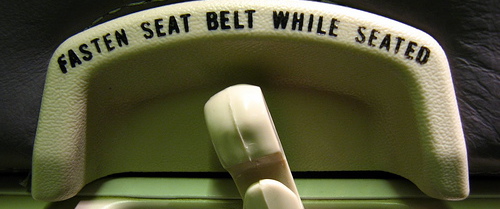 Hi!
I have a question regarding the fasten seat belt sign. I had to go to the bathroom really bad and the seat belt sign was on. When I couldn't wait any longer I headed to the back to use the lav. As I pushed the door open the flight attendant said, "the seat belt sign is on." I explained it was an emergency and asked if I could go. She just repeated what she had just said. We just stared at each other for seemed like a long time. Why did she just keep saying the same thing over and over and not answer my question? I felt like I was in the twilight zone! I finally just went because I had to go. What are you supposed to do if you really have to go and the sign is on?
Sincerely, lost in translation
Dear lost in translation,
This is actually a very good question and you're not alone. You may even hear some flight attendants say in that awkward moment of silence, " just be careful." But, here's the deal, flight attendants are not supposed to say that. Lets say you get hurt….the flight attendant gave you permission to go to the lav by telling you to be careful. Flight attendants are informers and per FAA regulations part of our job is to inform passengers when the seat belt sign is illuminated. No more, no less. Once the captain puts the sign on either the flight deck or the flight attendants will make an announcement, the flight attendants will do a walk through the cabin (if conditions allow) to make sure passengers are in compliance and then should anyone get up flight attendants will inform the passenger that the sign is on. As an adult it is up to you decide if you need to use the lav. I'm not condoning being up when the seat belt sign is on, it's on for a reason and it can be dangerous to be up. However, I know that sometimes people have to go the bathroom so I do my job and inform. The rest is up to you. Make sense?
Have any questions you'd like answered? Join us on facebook, twitter and pinterest. Also, be sure to check out all the great exclusive discounts we've scored for our readers, "here."