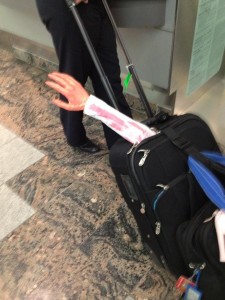 The flights are full this week and with full flights comes anxiety and stress for most. Here are a few friendly reminders about air travel etiquette. Lets all remember that most of us are traveling this week to be with loved ones and gives thanks.
Check TSA.gov to make sure you can carry that pumpkin pie through security. You'll be a lot less stressed if you prepare yourself ahead of time.
Smile at your fellow travelers. Leave the stress of TSA at the security check point. My daughter and I have a ritual, once we get ourselves put back together and we're in the terminal we high five and say, "hard parts over!" As a flight attendant I know it is possible to change the energy or the mood of a flight with my energy. You can too.
Travel light. If you carry on be courteous and place the smaller of your carry ons under the seat in front of you so everyone has a shot at over head space.
Wait to place your coat in the over head until every ones luggage has been accommodated. Seems simple but, coats fill an entire bin and make it look like there isn't more room. Let us get all the rollaboards in and your coat will fit in around them.
Don't be a space hog. Leave your arm rest down and don't spill into your neighbors space.
If you have an issue with something someone is doing be polite. Passive aggressive behavior, evil looks and shoving seats, can escalate into much bigger problems. Most people don't realize what they've down is bothering you. If you can't resolve the situation yourself ask a flight attendant before the door is closed if possible. Problems are much easier handled on the ground.
Traveling with kids and electronics? Make sure they have headphones to go with their games and movies. It maybe a great distraction that you don't "hear" but, not everyone enjoys Dora the way a four year old does.
Also keep in mind that there are many infrequent fliers out there this week who could use a helpful hand. Maybe a parent traveling alone or someone elderly may be grateful if you get their bag down. There are also a lot of new flight attendants out there and it could be their first Thanksgiving away from family and friends, remember a smile goes a long way and chocolate doesn't hurt either!  Did I miss anything?
Join us on twitter, facebook and pinterest! We love your feedback. Gearing up for holiday shopping? Don't forget to check out the great deals we scored exclusively for our readers…Travel Pro, Hoseanna, 3floz, mile high gear, jewelry and more!
Safe and happy travels!
*the mug on the featured image can be purchased "here."