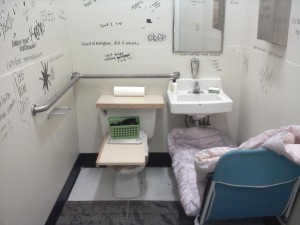 Furnished Room for Rent in EWR airport, Concourse C.
I changed the lock 18 months ago and have the only key. The current renter is transferring to the west coast.
$399 a month. One month deposit. 6 month lease. Utilities included. No Pets.
Here are some of the FAQ Alex (the landlord) so graciously answered:
Ed: WiFi?
Alex: No WiFi
Will: Now that's a hot bed!
Nancy: What? no mouse?
Alex: There is a floor drain in this room. One could always hook a shower head and bracket up if they're into that whole "fresh and clean" commuter fad some of the new kids are trying.
Jim: TP is extra?
Alex: The section of the contract concerning TP actually says:

"Optional; not provided"
Will: How are the neighbors?
Alex: Full Disclosure:

As some of you have heard, there were problems with passengers coming by and trying to open the door. However, after changing the placarding to "Authorized Personnel" "Sewer Ventilation Entrance," there are very few attempts.
Kathe: It's nice and all but the white paint is just so harsh…will it be repainted a softer color before anyone gives you a security deposit?
Alex: For those of you complaining about the wall color or wanting to make changes: I will paint it white again. If you don't like the white, turn off the light. It's that simple. Use some imagination. This is very reasonably priced (and furnished).
Anna: Dude, not charging enough rent!! That's a steal. Wait, Alex is that a two way mirror I see?
Catherine: Where is the bar area?
Alex: That is a Corian slab on the top of the toilet. Many use it for cosmetics. However, feel free to line up your Minis and the water bottle Shiraz of your choice with some of the fine United plasti-crystal. I suggest you don't use glass unless you want to purchase a broom and dustpan. (space is at a premium) There is a trash can about 20 steps down near C-92. The food court will give you ice, but tip them generously.
There is a mood and ambiance switch for the lights. Two settings: On or Off

Soap is the same as TP. Optional. Not provided.
Surprisingly, I think this property is still available. If you have any other questions for Alex please leave them in the comments. He may be nice enough to answer.
Join us on Facebook, Twitter and Pinterest! Shopping for the holidays? I have great discounts I've scored exclusively for my readers  "here."