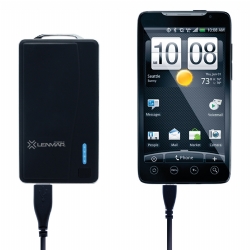 Ever get the Monday blues. Need a little cheer on your Monday morning? Well, I've got some great news! Every Monday I'll be hosting a give away and my first is an awesome travel gadget. If you're like me and your on facebook and twitter a lot when you're out and about, your phone's battery probably doesn't last long enough to suit your needs. So what's the answer to our power prayers? Lenmar's PowerPort Wave 2400 – External Battery and Charger for Smartphones! I can't leave home without mine now. It's light weight and charges my iphone with a little extra to spare. Lenmar has an array of PowerPorts to choose from. Everything from my little charger to computer chargers and phone protective chargers.
Want one? Here's what to do…go and "like" Lenmars facebook page. Super easy. The winners name will be drawn randomly from the new likes. You have until this Friday to do it (3/22/13) and we'll announce our winner here next Monday along with our next give away!
Want yours now? Lenmar has agreed to give you, my lovely readers 10% off all their products until 4/22/13. Just use the code: PINTO
Do you own any Lenmar products? Let us know what you think in the comments below and be sure to join us every Monday for a great new give away! You can join me on facebook and twitter for more updates, news and tips on flying!