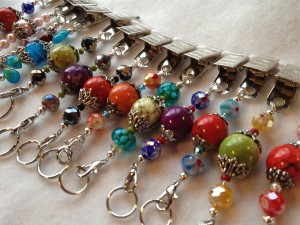 Thank you to all that participated in last weeks give away with Lenmar! And, the winner from the random facebook drawing….drumroll please….is, Patricia Cordero Carmenluzvalenzuelabarrenechea. Congrats Patricia! Please message me on facebook at your earliest convenience and I will put you in touch with Lenmar to claim your prize!
This week we are giving away a beautiful lanyard of your choice from Gingerbead Boutique. Not only are they gorgeous, but they're special because Debbie is a fellow flight attendant. Like many good businesses, Gingerbead Boutique was born from a need:
"Years ago, I wanted a dressy lanyard to wear with my uniform.  After not finding one that I liked, I decided to make it myself.  Since that time, friends and co-workers have asked me to make theirs as well. A close friend recently suggested that I open my own online jewelry store, stocking it with my pretty ID badge lanyards." -Debbie
If you'd like one of Debbie's lanyards or a piece of jewelry check out her site and like her facebook page, "here."  She'll choose a random winner from her new likes and you'll have until Friday, 3/29/13 to enter. This is an exclusive contest for my audience so your chances of winning are pretty great! If you just have to have one now, Debbie offers my readers 15% off with the code: theflyingpinto15.
Check back with us next Monday for the winner and a new give away! Got questions about air travel or becoming a flight attendant? Ask away! Post in comments or join me on facebook and twitter.