Did you enter last weeks give away from Casauri? Well you should have! They couldn't decide on just one winner so they picked six!! I love them and their bags! Winners of the iPad case are Rhonda Winston and Kelli East! We also have four runners up, who will receive a super cool iPhone case! Best thing about this case is the clear window that you can use the phone right through with plenty of room for your I.D. and cards. Our runner ups are Kim Huang Crivello, Kristen Smith Norton, Ken Suen and Keri Zeka Photivihok. Please email us or message us on facebook for details on claiming your prize! A huge thank you to Casuari!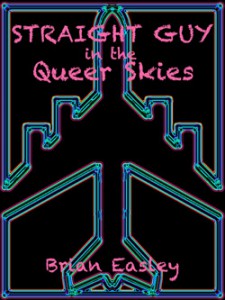 This weeks give away is near and dear to my heart. We're excited to give you a chance to win a copy of Brian Easley's book, Straight Guy in the Queer Skies. There are many great flight attendant books out there, but not many from a straight guys point of view. If you've followed Brian's blog by the same name you know how funny and witty he is. And, although Brian says, "women love a man in uniform. That is, unless it's a flight attendant uniform," I wouldn't be so quick to dismiss. What I love about straight male flight attendants is, their confidence. Working in an industry that people assume they are gay all the time, takes someone who is tolerant of others and secure in who they are! Oh, and they come with flight benefits:) Straight Guy in the Queer Skies will take you to flight attendant training and through Brian's amazing travel adventures! He also answers many questions you may have about being a flight attendant along the way! The true glamour of the airline industry may be over, but Brian shows us there are still many opportunities to travel and see the world! Check it out! Like his page "here" to be entered to win a copy. Need to read it now? Order "here" through Amazon.
Questions? Comment below or Join us on facebook, twitter, google+ and pinterest! We love to hear from you!