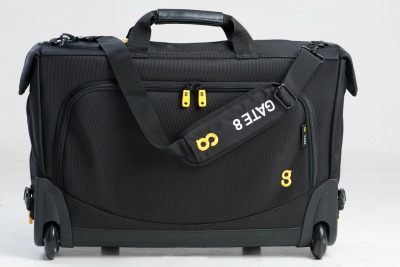 Spring is near and flights are being booked for business trips, weekend getaways and more. For airlines that means plenty of hustle and bustle throughout the day from accommodating priority passengers to ensuring that there is enough space in the overhead for those that are traveling with carry on bags.
Dealing with bag issues can definitely be hectic for both the flight attendants and passengers; making the travel experience less than pleasurable. Now, there is a solution: Gate8 Luggage.
The new easy, light, way to travel, Gate 8 Luggage provides passengers with the ultimate luxury travel experience. It is a clever new range of patent protected cabin baggage that not only meets the hand baggage criteria of ALL airlines, but also offers a stylish and practical way to carry technology, accessories and crease-free clothing, that saves time, money and frustration for travelers.
Gate8 baggage design cleverly folds out to form a wardrobe for a typical trip, making it effortless for customers to pack and go. For those who love to work and travel, the Gate8 bags come with a laptop case that unzips with ease, making it convenient to catch up on work while waiting to board their flight.
Gate8 offers a plethora of products for the customers who enjoy versatility. Their new bag "Cabin Max" is designed for cabin aisle wheeling and comes with a "zip-away" mobile office that protects technology, including laptops, iPads and Tablets up to 15″ + accessory pockets for Passport, Mobile Phone and all other accessories;. You just zip it on to travel and comply with single bag carry on requirements.
To find out how you can become a Gate8 traveler, visit www.gate8-luggage.com