I love having twenty four hour layovers! The only downfall is sometimes, like my Chicago layover, I wish it was 48 hours! There is just so much to do downtown Chicago. If you remember from a previous post, Twenty Four Hours in Boston I try to stay in budget with my per diem which is about $50 a day. Here is how I spent twenty four hours in Chicago and $50:
The special thing about this trip is my entire flight attendant crew decided to hang out and explore the city together. Sometimes this is tricky because you have four people that might have four different ideas on how to spend the day. Luckily these were all pretty easy going women who were just interested in hitting the pavement and seeing what Chicago had to offer. We arrived late and made plans to meet in the hotel lobby the next morning. The one activity I was interested in was The Sky Deck:
Everyone was game, well at least to go with the two of us that wanted to do it! Located in The Willis Tower and 103 stories high you step out into a glass box. Can you imagine two flight attendants being afraid to do that? It didn't end up working out anyway. We found out the wait was an hour standing in the slow moving line and that is one thing flight attendants are not good at, waiting in line. I know a bit ironic because we wait around a lot, but we usually get to hide somewhere at the airport or on an empty airplane while waiting. This is definitely on my to do list for another time. Preferably at opening time on a week day!
Next was a new art exhibit in Chicago, a giant Marilyn Monroe statue. The pose was taken from the movie, "The Seven Year Itch" from the scene where Marilyn is standing over the subway grate as a passing train below causes her skirt to fly up revealing her panties. Yes, you can see her panties.In case you were wondering!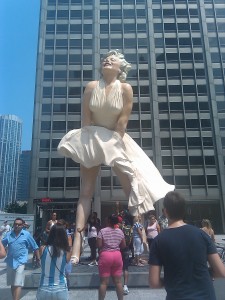 One of the best things about Chicago is that it is a walking city, but it happened to be hot and we had been walking for a couple hours at this point so from Marilyn we headed over to Millennium Park.
And a few more pics: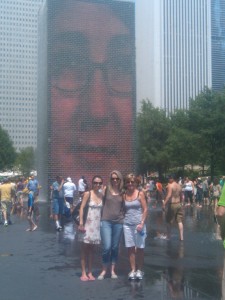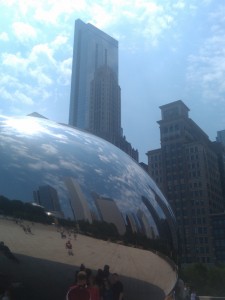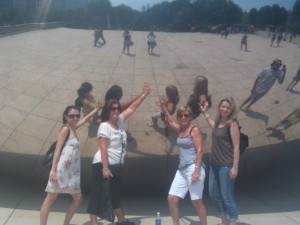 Did you notice I still have $50 left? Of course by now we were famished so it was time for the good stuff! How could you spend twenty four hours in Chicago and not get Chicago style pizza? You can't. Gino's East was next on the agenda. Still a half hour walk away we deserved every bite!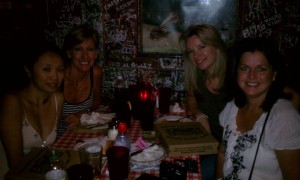 Here's where I finally spent my per diem:
Gino's East $30 for small veggie deep dish, soda and tip. (Yes, I did get my own pizza. It was lunch and dinner)
Hmmmmm….$20 left. Should I save it and add it to my budget for my next layover? Nahhhh, I need new shoes remember? And, there just happened to be a Marshalls on the way back to the hotel. If you've ever been to a big city Marshalls you know they're the best!
Black pumps: $20 (Sam and Libby) Score!
And that was how I spent twenty four hours in Chicago. Have you been to the windy city? What did you do? What did I miss?