Q. I am interviewing  with USAirways soon, and am really excited. I am an older applicant, with years of customer service experience. I have two questions, 1. How would you recommend I dress? I am told the interviewers grow weary of Blue suits. 2. Do credit checks highly impact hiring as a flight attendant? Thanks so very much.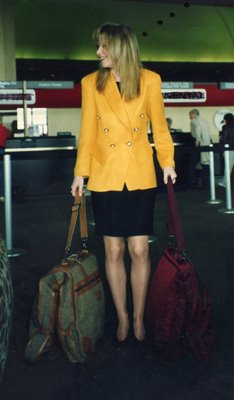 A. First, don't feel being older is detrimental to interviewing for a flight attendant position. I'm not sure what you mean by older, but I had a sixty year old woman in my training class and she ran circles around some of the younger (me)  flight attendant candidates. The legacy carriers love people with experience so be confident and highlight your customer service experience in your interview.
Although I felt pretty confident in answering your question about the color navy I consulted a recruiter friend to see if she agreed with me. And, she did! When interviewing for a flight attendant position you really can't go wrong with conservative, but you definitely can go wrong in the other direction! You may have noticed all the news stories about airlines kicking their own passengers off flights for not dressing appropriately! I would say a safe bet is navy or a dark grey. That being said, don't just wear a dowdy suit. Make sure it flatters your figure and your look is polished. That means professional looking make-up, hair and accessories. If you need help with that then get the help. Also know the airline you're interviewing with. In your case it's a legacy carrier and conservative and polished rings true, but some of the newer thinking airlines like Virgin America or Jet Blue may like to see a little more pizazz. Again, don't go overboard just add a little with your accessories. Remember too, this will be their first impression of you. Another recruiter friend once told me a flight attendant candidate walked into his interview with sandals on. The recruiter made up his mind in that very moment.
As far as the credit check is concerned, I'm not sure how much weight the airlines put on it, but my recruiter friend and I agree the background check is the most important. The airlines are looking for criminal activity more than anything else. You haven't robbed any banks I hope?:)
You can also check out another question I answered about interviewing for a flight attendant position, "Flight Attendant Careers: Interviewing" for a few more tips. Good Luck and please let us know how you do!
Do you have an interview with an airline for a flight attendant position coming up or want to know how to get an interview? I would love to help! Head over to The Flying Pinto Face Book page and let me know what your question is and also to find out who guessed how much my moms baggage weighs with Eat Smarts Precision Voyager Luggage Scale!
Oh and yes. That picture is me on my way to flight attendant training back in 1993. Like the luggage? I had two more bags you can't see and none of them had wheels!
Featured image courtesy of Uptake