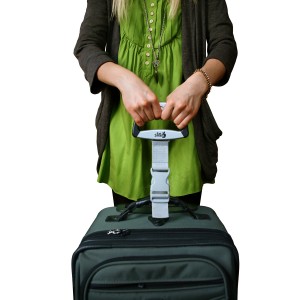 What does eating smart have to do with a luggage scale? I'm not sure, but my mom did pack some groceries in her suitcase last week.  Why would anyone pack food in their luggage? In her defense she had just gone food shopping when I asked her to fly in for emergency baby sitting duties and she didn't want the perishables to go to waste. Yes, I know you all wish you could fly your mother in on a whim to babysit! Just one of the perks. Ok, back to the food, it was packed in a cooler, but unfortunately her bag got lost. (Yes, the airlines lose our luggage too) You really wouldn't have wanted to be me retrieving the bag the next day! Needless to say she'll give the food to her neighbor next time. So back to Eat Smart! Eat Smart has a great line of scales including a luggage scale.
I never would have thought to buy a luggage scale, but I am excited that Eat Smart decided to send me the Precision Voyager Luggage Scale. Now I don't need a luggage scale, but my family is another story! Do you remember when I was brave enough to show you my families luggage? It hasn't gotten much better. My mom is the worst culprit besides carrying her weeks groceries in her bag…well, I won't go there I'm probably in enough trouble already. Lets just say it's heavy. I seriously don't know how she does it. Her luggage weighs more than my four year old! This scale can help keep money in her wallet by letting her know ahead of time how much her bag weighs. The guessing game she's been playing all these years hasn't always worked out and there has been pay outs. We gave it a test run yesterday when I dropped her off at the airport and this scale is right on the money! The Precision Voyager Luggage Scale is easy to use and doesn't take up much space. You can store the luggage scale in a side or front pocket so you always have it with your luggage. Do you know what your luggage weighs? Are you usually guessing too?
So, do you think you can guess how much my moms bag weighs when packed? Check out the picture below of it fully packed. Here's your chance to win a Precision Voyager Luggage Scale ($19.99 value):
Hit "like" (unless you already do (((thank you))) then skip to step 3.)
Post your guess on the wall by writing "I'm guessing your mom has ___ pounds of baggage!" That's it!
I will choose a winner one week from today (7/28/11) Good Luck!