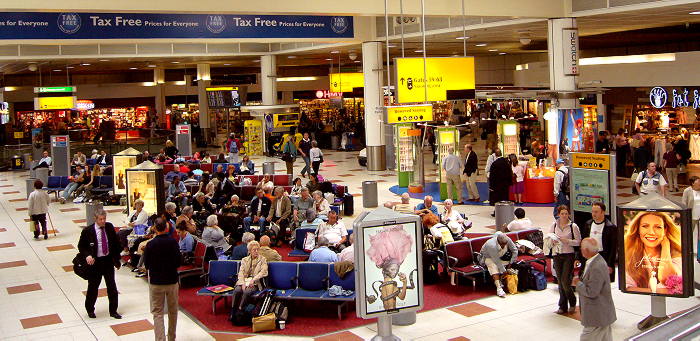 Gatwick Airport is the busiest single runway airport in the world, and the second busiest airport in Britain. Situated in Crawley, just south of London, it is London's second largest airport.
This airport has lots of shops – in fact there are so many shopping opportunities here that you might well think you're in a regular mall instead of an airport. There are toy shops and fashion shops, duty free shops and plenty of places to buy souvenirs to take home. From Boots to The Body Shop there is somewhere to buy anything you need at Gatwick and it's easy to spend several hours shopping here. With plenty of places to buy things, you could pick you a magazine, tabloid or a new book and enjoy a spot of reading while you wait.
When you get hungry there are plenty of restaurants and bars at Gatwick, whatever the meal you're ready for, you'll find it here. There are places like McDonalds, Burger King and Pizza Express if you want a bit of fast food, or there are well known family favourites like Giraffe, Wetherspoons and Garfunkel's too. As you might imagine, queues can be a bit long at prime times, so allow plenty of waiting time if you're heading for a meal before your flight. Bridge Bar and eating house offers a modern setting with friendly atmosphere and good food, and The Flying Horse is another bar with good choice of wines and beers. Most restaurants and bars have screens with up to date flight information on them too which is always a help.
For anyone with T-Mobile, The Cloud Network or BT OpenZone free internet access is available. It's very simple to use, just launch your browser, choose the wireless network you wish to use and you're set. If you don't have any of these, then there are dedicated internet access areas where by paying a small fee you can then access your e-mail and the rest of the internet.
A non-denomination chapel on site offers daily meetings for various different religions, and a dial up announcement service will tell you when and where these events will be taking place.
For currency exchange you can order by internet or phone and collect it at the airport. With more than 50 different currencies available and 0% commission this makes it easy to get money when you need it.
If all you'd really like to do is to lay back and sleep, then there are sleeping chairs available in the department lounge. Pillows aren't provided, but with air pillows being so easy to fold up and keep in your pocket or hand luggage this is easily fixed, and these chairs are very comfortable to lie in.
With so much to do to keep you entertained, a wait at Gatwick doesn't have to be boring, and lay over's need not be frustrating, just don't forget to keep an eye on the time, we wouldn't want you to miss your flight.
Sponsored post