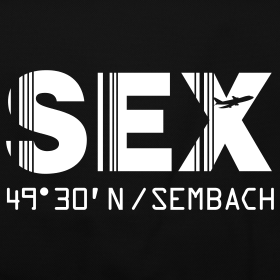 My inbox has been a flurry of activity lately with flight attendant hopefuls asking me about the flight attendant career. One of the most common requests I am getting is for a list of airport city codes. If you haven't heard, this is one of the first things flight attendant candidates are tested on during training. In fact, if you have recently been hired you can expect to get a list of them in your welcome package because you will be expected to know them prior to training. You probably won't have Germany's Sembach Airport on your test (see image above) but if you want to impress your classmates or maybe scare them off you can check out the messenger bags for sale with airport codes on them. Solarek.spreadshirt.com has this and many other airport city codes available on bags, caps and T-shirts. A trick I remember from training is to create your own little acronyms for the three letter airport city codes. Here are a few I remember, notice the ones that stuck with me all these years!
HNL (Hot Naked Ladies)
PNS (ahemmm..a word I won't write because it's not "that" kinda blog) just minus the vowels;)
IAD (I Am Dull es)
MCO (Mickey's Co.)
SXM (sexy men)
RSW (real sunny weather)
FAT (nothing needed here!)
FUK (or here:-0)
MFE (mother f'@%*n enchiladas)
BNA (boobs n a*s) think Dolly
IAH (I am hot)
You can find off the beaten trail airport codes, but very funny ones in this post by Flying with Fish.
Have a question about airline travel? Come on over and join the conversation on Facebook/theflyingpintoblog or at @theflyingpinto on twitter. Have a Kindle? Subscribe to TheFlyingPinto for automatic updates.
Oh! Did you want to know where these places actually are? Did you guess? Honolulu HI,  Pensacola FL, Washington DC Dulles, Orlando FL, St. Martin NA, Fort Myers FL, Fresno CA, Fukuoka Japan, McAllen TX,  Nashville TN, and Houston TX