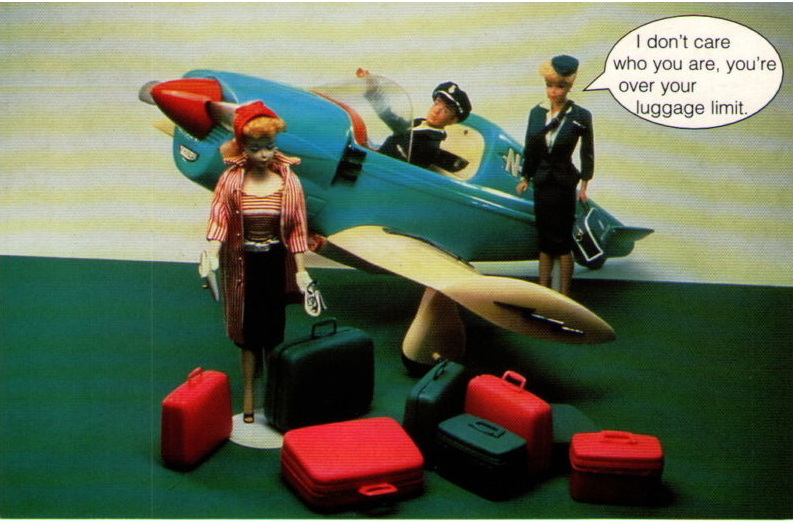 Lifting bags is such a hot topic when it comes to air travel. Let's talk about the bags! We love each other right? We're all here on facebook and twitter getting along, having a great time, flight attendants, frequent flyers and not so frequent flyers alike. But, we get on the plane together and we start to not like each other so much. It's those damn bags! I thought maybe we could hear both sides of the story and hash it out once and for all. I asked passengers if they thought lifting bags into the overhead bins was the responsibility of the flight attendants. Here's what you had to say:
@SlyFox226 I don't expect flight attendants to help put my bag in the overhead. I usually help other passengers who have trouble.
@briadavi: only for a disability or to put it back in for a bulkhead passenger.
@airlinereporter: HECK NO I wouldn't expect a FA to lift my bag for me. Maybe if I was like 90, but I would be super polite!
@enchantedtravel: No I lift my own bags. However it's helpful for the flight attendant to rearrange bins if need to be regrouped to make more space.
@geekydewd: No. Would really slow boarding to have flight attendants moving about cabin to assist. I offer to help if I see a fellow passenger struggling.
Sharon Padmore: Help the elderly, kiddies and the preggers.
Diane Gabert: I never expect a FA to lift my bags. My bags-my responsibility! Love you all!!
Chris Kadlec: If you can't get it into the overhead compartment yourself, you should check the bag. With the strict weight limits for checked bags, a lot of people – myself included – are forced to put any extra check-on weight into the carry-on, and this can make for some heavier-than-expected bags. But… I'd never *expect* a flight attendant to assist me with my bag. If I'm having trouble with it though, and someone wants to assist, such as having a second set of hands to safety lift it into the compartment, then by all means, it's appreciated! Older folks though could always use some help with the heavier bags.
Paulette Eframson: As a passenger, no, I don't expect the flight attendant to lift my bag…I'd rather not have a bag in the Overhead if I can help it…I pack Medications and anything that I need in my large purse or a smaller tote that I can stow under my seat.
Robin Dillon: Absolutely don't expect any help, if I can't lift it I should carry it. However, I do appreciate it when the flight attendants make people put their bags in wheels or handles first so more can fit in. I can not stand people who think they own all the space in the overhead, quit putting your small bags in there people.
Jim McDonough: Earlier this year I did a lot of flying on USAirways Express (Republic) flights, where it was common for flight attendants to assist passengers with their bags. Otherwise I don't think I've ever seen it. Must be a corporate culture thing with Republic Airlines.
@maxgraham: never. Help is nice but I would never expect an FA to do it for me. If you can't lift it yourself. Check it! 🙂
@foodieintl: Who are you calling a bag!!?
@blueskygraysky: I'm happy if I get a second bag of peanuts.
And, I then asked the flight attendants how they feel about lifting passenger bags:
Gordon Valentine: There are exceptions when I'll lift bags, however, I nearly tore my rotator cuff while helping a women with hers. She let go without telling me over another passenger's head and it took everything I had to not drop the bag. I've also been surprised watching older women bring these bags one that 'look' light, but once trying to lift them, I can't because how much stuff they packed. I don't get paid for injuries from lifting a pax bag, so this is a hard topic for both sides.
Kimberly Russell: I assist but will not fully lift a bag on my own. As others have said, as a passenger I never expect a flight attendant to help with my bags.
Sherri Underwood: If you can't lift it, don't carry it on! And check to see if it fits in the DOES IT FIT box before lugging it down the aisle. The overhead doesn't expand like luggage does. Such a pet peeve! But it does provide some humor as people try to cram it in. And no, don't expect the FA to help.
Mary Jo Manzanares (The Travelers Way): If you can pack it, you can rack it! A torn rotator cuff and recently healed broken elbow are just two of the reasons why I don't lift anything that I don't have to.
So, what do I think? I feel pretty much the same way. I also think that passengers arrive at the plane their most stressed having just dealt with getting to the airport, parking, security and possibly a close connect. As a flight attendant I try to remember this during boarding and help out as much as I can and not take anyone who is stressed too personally because usually everything calms down once they're settled on the plane. I always say to my four year old as soon as we sit in our seats, "hard parts over!" I'm also willing to help the elderly, anyone who is disabled and kids within reason. If the bag is so heavy that I feel I will injure myself from lifting it there's usually another passenger by me to help, but as a passenger I would never expect it. When I travel I only pack my bag as heavy as I am able to lift it, that's a good rule of thumb for anyone…if you can't carry it, it's not a carry on;)
Tip: When flying always be prepared to check you carry on in case the over head space fills up before you get on the plane. Overhead bin space is on a first come first serve basis, and although flight attendants try their best to monitor the bags (they do), the most important thing is that we get the flight out safely and on time. There are other things going on during the boarding process that will take precedence over policing the overheads for small bags, coats etc. Never pack your valuables or medications in the larger carry on just in case you're asked to check it. Know the dimensions of your bag, even though your carry on expands the overheads do not. And, when shopping for a new roller-board test out the weight of the bag empty, all bags are not created equal! This can be the difference of several pounds! Hopefully this post helps us all understand each other a little better!
Cheers and Happy Flying!
Need new luggage? Travel Pro has a great discount site and use my code: theflyingpinto15 to enjoy an additional 15% off!
Would you like to join in on the conversation and be heard? Join me on facebook/theflyingpintoblog and @theflyingpinto on twitter. You can also hang out with me in The Crew Lounge at UPGRD.com/thecrewlounge.