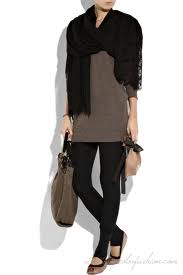 How you look says a lot about you. I know the last thing you are thinking about when it comes to air travel is style. You're more interested in how to squeeze everything into your one carry on and all you care about is being in something comfortable for your long flight but, you don't have to sacrifice comfort for style. If you follow these tips I can all but guarantee you will not only be comfortable, you will be the best dressed on your flight. And, you never know where that might take you.
A big warm sweater is a great place to start. Invest in a nice sweater for travel. Underneath wear layers, a tank top, and a long sleeved shirt. This works anytime of year. You can peel your layers as you get to a warm destination or add the layers if you get cold on your flight.

Stylish leggings or pants. The key to comfort is to make sure your pants have stretch. You can even find jeans that will work. I'm not against yoga pants but, if you go this route make sure the rest of you is dressed with style by wearing a nice top, scarf, jewelry and shoes not sneakers.

Speaking of shoes. You don't need to to wear sneakers to be comfortable. I travel in ballet flats or loafers (think: slip on) unless I really need boots at my destination in which case I wear the boots because they take up way to much space in the suitcase. If you travel frequently think of buying a few pair of shoes special for travel. Your feet swell when flying so I have shoes that are a half size too big just for travel.

The right carry on. You know that bag that extra purse, or laptop bag that you are allowed in addition to your one carry-on? That's the bag I'm talking about. Make it count. Big bags are in, take advantage of it and use it for all your carry-on essentials. The right bag can add a lot of style to your whole look.

A great scarf that will complete your outfit and double as a small blanket. Anything that does double duty while traveling is worth its weight in gold.

The right cosmetics. I travel with bare essentials make-up, not only is it great for your skin but, it's powder (tsa friendly). Lip balm, LUSH solid moisturizer for my skin and disposable toothbrushes that don't need water.

The Ziploc: I keep eye drops in my tsa baggy. Flying is extremely dehydrating not to mention eye drops can be just the right thing to make you appear awake after a red-eye flight.

 The right luggage. Black is key, it goes with everything and doesn't show the dirt. (Use my discount code to enjoy 15% off at Travel Pro: theflyingpinto15)
Just prior to initial descent head to the lavatory adjust your outfit to suit your destination, brush your teeth, add lipstick and voila! You've arrived in style.
How do you travel? Is looking good important? What tips do you have for adding style to air travel? Join the conversation on Facebook and twitter. Interested in the flight attendant's lifestyle? Take a peek behind the galley curtain by subscribing to my podcast, The Crew Lounge. 
*Shoes available at TBshoestore.com