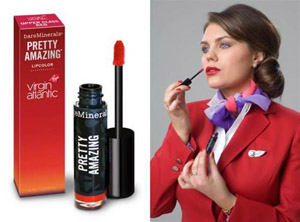 Seems there is still glamour for some Flight Attendants! Virgin Atlantic hooked up with Bare Minerals to produce Upper Class Red Lipstick that will match the uniform of their cabin crew. Teaming up with Bare Minerals makes sense since their powder foundations are travel friendly. Great for your skin and no liquids to worry about going through security!
Follow these great tips for that polished look on your next flight! I guarantee you'll stand out from the crowd;)

Got any tips for being comfortable, but still looking glam (or at least not wearing pajamas) while flying? Or better yet, how do you stay looking fresh on a long haul flight? Join us on Facebook and Twitter we'd love to hear from you!