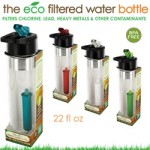 Where have you been all my flight attendant life? I love this filtered water bottle! It allows me to go through security sans water and fill up at a water fountain once through. BPA Free too! Order from Smart Planet and TFP readers enjoy 15% off all products using code: theflyingpinto15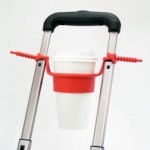 Another great invention! I am always juggling my phone and my Starbucks when I'm rushing from one flight to the next. TUGO has saved the day and solved my dilemma. Only downfall is you have to remove it before stowing your bag. For me small price to pay to be able to carry a drink through the airport hands free without spilling.
There's a magical place where everything is 3floz! 3floz.com has so many amazing products and they're TSA ready! I love all things miniature and ready  for travel. TFP readers enjoy a 15% discount on ALL their products w/ code: theflyingpinto15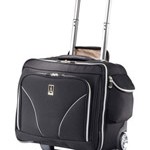 My new favorite bag is from Travel Pro's walk about lite collection. The rolling tote is a great carry on bag that works whether I decide to check my big bag or it attaches to my rollaboard if I'm carrying on. One of the reasons I hated checking when traveling off duty was that I'd have to carry my tote and with a kid in tow it was just too much and too heavy. This bag works alone or as a team.  As always my readers enjoy 15% off all Travel Pro Luggage.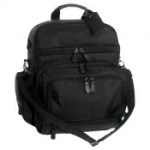 One way to make air travel more fun is to BYOP. Bring your own picnic on board. I love to bring treats for the crew and treats for us. Mile High Gear has leak proof coolers for crew that you can use too! Did you know you can travel with a small amount of dry ice? Check TSA for details but, we were able to pack my stepdaughters favorite Blue Bell (birthday cake) ice cream (not sold in the northeast) in my MHG cooler and bring it with us. I am happy to report the ice cream arrived frozen. Where there is a will there is a way. Mile High Gear has many sizes listed as 2,3 and 4 day coolers. TFP readers get a 15% discount w/ code: theflyingpinto15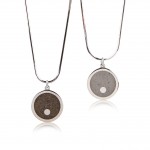 Dune Jewelry may not help get you there any easier but it will help you arrive in style. Dune is my favorite line of jewelry not only for its beauty but because it is a great way to preserve the memory of your special beach vacation or honeymoon. I've even decided to have a piece made from the sand in my daughters sand box, which is a collection of all the beaches we've visited since she was born. With over 900 beaches in stock Dune can provide the sand or you can send them yours. Choose from Pandora charms, necklaces, bracelets and more. 15% off with code: theflyingpinto15
What are your favorite travel things? Join me on Facebook, twitter and pinterest to let me know! Traveling with little ones? Look for my favorite "kid" travel things 2012 coming soon.