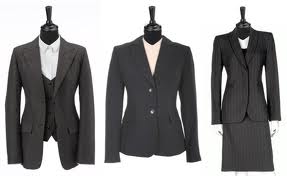 Congratulations on your upcoming interview! You've already been chosen from thousands of applicants to even come this far so bring that confidence with you on the big day!
Prepare! Do some research on the airline you are interviewing for. You may be asked why you want to work for this particular airline.
Bring your resume. Even if you submitted it online already. They may want a copy. If you know a flight attendant well, have them write a recommendation letter and also bring it to your interview.
Dress the part. Most airlines are conservative corporations. Dress in a navy, black or grey fitted suit. Wear black, closed toe, plain pumps (men wear a business shoe). Purse should be solid in color, also conservative in color, I recommend black. Hosiery should be worn and should be nude. You can find some great options from RejuvaHealth. Accessorize with small amounts of jewelry and make sure it is also conservative. Make-up should be worn with a matte finish and again, keep it conservative. Hide any tattoos and remove any piercings except basic earrings. Hair should be neat and pulled back. Hands should be moisturized and nails should be neatly manicured.
Be prepared for a long day. If you are being considered you will have up to three interviews in one day and it will be grueling. Get a good night sleep the night before your interview.
Relax. Do whatever works for you beforehand, meditation, music or maybe talking with someone that boosts your self confidence. You will be observed from the moment you arrive. A flight attendant is expected to be cool under pressure so the interviewers will be looking for those that appear calm and collected. Be friendly and mingle but, only until the recruiter starts the session. Smile a lot.
Turn off all electronic devices before you even walk in the door! Off!
Think about how you would answer the question, "why do you want to be a flight attendant?" Go deeper than, "I love people and I love to travel." It takes a unique, multifaceted person to be a flight attendant. You need to be someone who can handle not having a routine, who is independent, can handle working holidays for many years to come, can perform under pressure and is a team player. Give a lot of thought as to why you are a good candidate.
Google the STAR (situation, task, action and result) interviewing method. Be prepared to answer questions using their outline. The interviewers don't want to hear how you "would" handle a situation, they want to hear how you "did" handle a specific situation.
Practice answering customer service questions in the mirror. Do you appear calm? Are your answers stated clearly and with confidence? This is to make sure you are looking your interviewer in the eye and not fidgeting. Do not over practice. They are looking for genuine answers not scripted answers. So think of some examples but, don't memorize your answers.
Practice reading out loud. You may be asked to read an announcement or two. You just need to be clear, they're making sure you can read.
These tips are the basics. Follow them and you will be off to a good start but, it doesn't mean everyone is right for this career. It is a big investment for the airline to train flight attendants. The purpose behind the interview process is to make sure it is the right fit for both you and the company. Feel like you've got what it takes? Good Luck! Hope to see you in the skies!
Let us know how your interview goes and share your tips with us on facebook and twitter! And, don't miss out on the book I wrote just for you! The Flight Attendant Survival Guide…available on Amazon, iBooks and Nook!