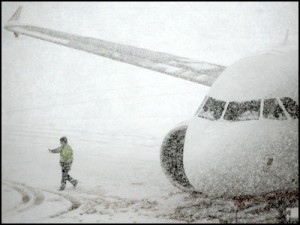 Where are you? Has Snowstorm Nemo got you snowed in? I'm home far away from it but, as I sit here drinking my tea I envision my colleagues out having snow ball fights. Probably not the reality. So what does happen to airline crews during a storm of this magnitude? I had the pleasure of being a guest on NPR's Marketplace with Kai Ryssdal yesterday to talk about this very topic. There are so many different stories playing out during a storm. I've talked to flight attendants who are stuck in Europe for a few more days, not too shabby if you ask me, and some are sitting around airports for hours. Not as much fun. Are we pay protected? Do we enjoy our time? Check out my interview "here."
I also asked on Facebook where and how everyone was doing? Here are how some flight attendants have been holding up:
Lauren: "San Juan turn became a two day trip, possibly a three day. Airplane stuck here with us."
Lisa: "I'm in Argentina for two extra days. Not complaining!"
Donna: "I'm in Stockholm with my sister-in-law. Came here on a 5 day, but turned into a 7 day. Crazy, but fun getaway for my sis."
Vivi: "I'm in Delhi thirsty, hungry, & fabulous!!!!"
Annette: "I'm stuck in my recliner at home…on reserve!"
Amanda: "Stuck here in Boston right in the thick of it all!"
Katie: "Actually driving upstate with husband to go skiing tomorrow!!! Love my job! Paid for skiing!!"
Debi: " Stuck at my crash pad in Newark. Cold and hungry."
As you can see, it works out better for some than others! Where did you end up for Nemo? Join us on Facebook, twitter and Pinterest.  Share your stories and photos!
Featured image courtesy of The Travel Channel Blog.