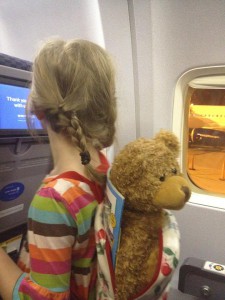 We all love to travel. Not many will dispute that, but there are many who see air travel as a necessary evil to get where they'd like to go. Especially if their kids are in tow. When my daughter Lucy was born I would barely leave the house with her for the first six months, but I would jump at the chance to get on an airplane with her. That probably sounds crazy to most of you. I actually see air travel as a great way for families to spend quality time together. Yes, you read that right. You're away from your daily distractions and you're sitting close to one another for the duration of your flight. Let your kids know that they will have your undivided attention and they will see this as good thing too. Be sure to bring lots of activities like card and travel games and/or art supplies to do together during the flight. Still not convinced? Here are my best tips to get your kids and you ready to fly:
Prepare them. I have always let Lucy know when we were coming up on a travel day. I literally get on her level and let her know what that entails. No detail is spared, from letting her know if we're getting up earlier than usual to what going through security is like. This is especially important with toddlers who thrive on their routine.
Let them know it will be ok. I also let her know that even though our day is different and mommy or daddy may seem stressed, everything is ok. Use whatever language your child understands, but don't get caught up in it. They will get the over all message.
Skip the kid size suitcase for the toddlers. Lucy and I shared a suitcase until she turned five. Those kid suitcases are cute, but guess who will become the pack mule? It is best to get a teeny tiny back pack for the under five crowd and let them carry light weight toys inside for the plane.
Involve your children with the packing. This will get them excited and help them understand you are going on a trip.
Pack the right things in your carry-on. This can make or break your flight. Check "here" for some recommendations.
Do a little research with them. Have they ever flown? Think of how exciting air travel can be for little people. Use age appropriate books and stories to get them excited. And, don't forget to stop by the flight deck while boarding your flight and say hi. Most pilots welcome young kids up front to visit while the aircraft is on the ground. Great photo op too! If you are going somewhere new you can also learn about your destination.
Give yourself loads of extra time. Take many deep breaths. Remember, if you're stressed your kids will be too.
Make going through security a game. Play "I Spy" or other games you can play while waiting in line. Lucy and I have a tradition of saying, "hard parts over!" and high fiving once through to the other side.
Bring gifts for the crew! We always bring something even if it's just a bag of chocolate. The crew loves it and Lucy gets treated like a rock star!
What is your best advice for preparing children for air travel? Please share in the comments below. I love to learn from other parents. Also join me on twitter, facebook and pinterest for more ideas and conversation.
Happy Flying!