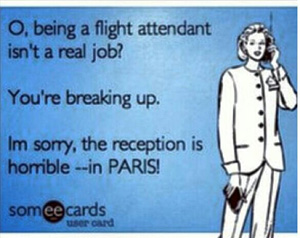 Career Cast has listed flight attendant as the tenth worst job in America. You can read their article "here" to find out what other careers made the list. I would love to know how they compiled their information and if they actually talked to any flight attendants. I also found it interesting that there wasn't one career on their best list that I would choose for myself. Dental Hygienist, Actuary and Software Engineer are a few. Not that there's anything wrong with those choices but, we're all different right? So, how do you compile a list like this? Here is the short paragraph about the flight attendant career you'll find on their site:
"High stress, low pay and a shrinking job market all contribute to flight attendant's inclusion among the worst jobs of 2013. The BLS projects virtually no change in job prospects, as airlines continue to consolidate and reduce staff."
High stress: I can agree that there is stress involved with being a flight attendant or any other customer service job for that matter. The flight attendant lifestyle is not for everyone. There can be long hours, spent away from home and loved ones missed. I think most find out whether it's the job for them or not within the first year. This is one of the main reasons I wrote my book, The Flying Pinto's Flight Attendant Survival Guide. It's a guide to help new hire flight attendants navigate through their first few years in the sky or those who are interested in knowing more about becoming a flight attendant.
Low Pay: This is a touchy subject for me. I am tired of everyone thinking that every flight attendant is at poverty level, which is one of the reasons I wrote, "Seven Surprising Reasons to be a Flight Attendant". Yes, the first few years are tight, but if you do your research and choose your airline carefully being a flight attendant can be a pretty great gig financially. Am I rich? Yes, in terms of freedom and lifestyle. How many people can build their own schedule and work as little or as much as they want or need to? I still have a full time job, yet I am home for every school activity or family event I need to be home for. How's my actual pay check? As good as, the higher end of a nurse's salary. Not impressed? How about if I tell you that I  accomplish that in eight to twelve days of flying a month. And, that doesn't factor in that I usually don't check in until the evening of my first trip. I have many flight attendant friends that make six figures a year. Yes, they fly a lot, but who doesn't work a lot to make that kind of money? The median income ($37,000) of a flight attendant is always skewed because most US airlines let their flight attendants drop all their trips and fly next to nothing every month or fly as much as they like. Another great advantage when life happens and you're caring for aging parents, raising small children or any number of things that most people don't have the luxury of taking a few months or a year off. The pay generally gets better after your fifth year of flying with yearly raises until your twelfth to fifteenth year depending on what airline you are with. I'm topped out and still have over twenty years of flying left before I retire.
Shrinking job market: According to the Bureau of Labor Statistics: "Employment of flight attendants is projected to experience little or no change from 2010 to 2020. Job prospects should be best for applicants with a college degree and experience in customer service."
All major US airlines have been actively hiring the past couple of years, so I am not sure where they got their information from.
I didn't even mention the great layovers in Maui and Paris or the views from my office window! Want to know more about being a flight attendant? Check out my new book available on iBooks, amazon, Nook and Vook! It was a true labor of love as I love being a flight attendant and want to pass on what I know to those interested in pursuing an airline career!  I could be wrong, but I imagine it's more fun than being an actuary, the number one career on Careercast.coms list.