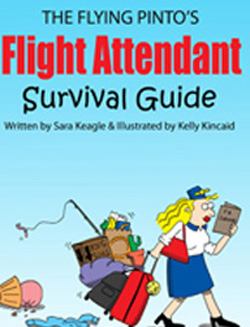 I wrote a book! Ever wonder what life is like after you are hired as a flight attendant? Everyone thinks getting hired is the hard part and it is, but let me tell you that first year on line as a stew can be one of the most challenging years of your life! Think about it, you've just agreed to leave the life you've know to live out of a suitcase, at the mercy of crew scheduling.
Whether you are newly hired or on the track to becoming a flight attendant my flight attendant survival guide will help you navigate through your new adventures. I offer advice from finding your new crash pad to love relationships to how to pack for your trips and everything in between. I've even thrown in a few personal stories of my own and Kelly Kincaid (miss jetlagged) did the awesome illustrations. This book is a must have if you're just starting your flight attendant career or just starting to think of a career in the skies!
Want a copy? I would LOVE to give YOU my readers the chance to win one! I have five promo codes to give out, all you have to do it "like" me on<a href="http://www cialis 10 mg filmtabletten preisvergleich.facebook.com/theflyingpintoblog"> facebook or follow me on twitter and leave a comment here why you'd like a copy, for your chance to win! I'll pick five winners and announce it on Monday 4/29. Need it now? You can find, The Flying Pinto's Flight Attendant Survival Guide on Amazon, iBooks, Nook and Vook!
Happy Flying!