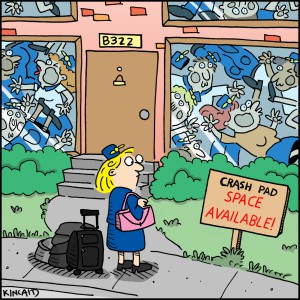 I loved my first crash pad. I lived there with my closest friends from training. We had a one bedroom suite with three beds out in the living room and four beds in the bedroom. It was in a very shady motel across the street from a strip joint. They had a wing for "crew" and a wing that they rented out by the hour…. Yeah, it was that kind of place. Funny that I now look back at that time fondly, but I do. The hotel provided shuttle service to almost anywhere we wanted to go, so we were able to get dropped off and take the train into New York City. We had some great times there.
In my next crash pad as a commuter I had a roommate that was dating someone who happened to be married… Married and famous! She met him on a flight while he sat in first class and his wife was in coach. (talk about a sign there's a problem!)  The phone calls used to come in the middle of the night and keep us all up. This is the etiquette I was speaking of earlier that needs to be established. He ended up divorced and my roommate did marry him. I say if you meet a celebrity on a flight, more power to you but, I'd make sure he or she is single. I'm a firm believer that karma, as they say, is a bitch!
Some things that make me look back and laugh are the calls in the middle of the night from scheduling. We didn't have cell phones when I was on reserve so the phone in the room would ring and wake everyone up. Of course we'd all be hoping it wasn't for us. There were many times you'd here profanity or someone just break down and cry. There was a male scheduler who used to refer to everyone as sweetheart. One night one of my roommates had had enough and when he called her sweetheart she said, "Hey! The only time anyone should be calling me sweetheart at 3am is if I am getting laid!"  Luckily the scheduler had a sense of humor.
One of the biggest questions you'll have to ask yourself when you find out your new domicile is, "where am I going to live?" Flight Attendants use crash pads for many reasons. One of the most common reasons is they are not based where they actually reside (aka: commuters). And, as a reserve flight attendant, unless you are lucky enough to find yourself based in the city you are currently residing in, there's a good chance you will need to live in a crash pad. Money is tight when you first become a flight attendant and a crash pad is a way to live inexpensively.  It's close to the airport and usually offers around the clock transportation to and from the airport.
Crash pad living is a hotel room or small apartment shared with other flight attendants and/or pilots. There are usually two types of crash pads:
Line holders/commuters: Line holders (those flight attendants and pilots that hold a schedule) will try to share a crash pad with other line holders because they have set schedules and are there much less often than a reserve flight attendant.
Reserve: This is probably where you will find yourself, at least for the first couple of years of flying. Although it can be crowded at times, because you're with other reserve flight attendants, it can also be comforting.  You're all going through the same experience and you'll appreciate having others to hang around with during the slow times of year when you're on call, sitting by the phone more than you are flying.
There's not much you can do to prepare for a crash pad ahead of time. It may seem stressful to not have your plans set before heading off to training, but you most likely won't know where you are going to be based until the end of training. Silver lining? …Because your classmates will all be in the same boat, you'll be able to make plans with your new friends and figure it all out together.
Where can you find information on crash pads?
Bulletin boards in the flight attendant crew room or training center.
Facebook: Ask your instructors if they know of any Facebook groups for crash pads at your new airline. Facebook has become a great resource for flight attendants.
Those flight attendants you meet on your training flights can offer a wealth of information too. Be sure to network.
What should you look for in a crash pad?
Affordability  If you and your classmates decide to start your own crash pad, make sure there are enough of you so the price is right. Certain hotels offer themselves out to crash pad living and they will rent to you and your classmates a room equipped with enough beds. The rate is set by the hotel and then divided amongst however many people will be sharing. They will usually set a limit to how many can share a room.
Hot bed vs your own bed   Although it can be cheaper to not have an assigned bed starting out, remember, on reserve you could end up spending many nights at your crash pad; you'll want to make sure you have your own bed and a little space to call your own. A hot bed is when you take whatever bed is available when you show up, much better suited for line holders who commute.
Transportation  You'll want to make sure there is a shuttle service to and from the airport 24 hours a day. As a "reserve", scheduling can assign you to trips anytime of the day and get you back to your base at all hours of the night. It's also a good idea to make sure the shuttle runs often enough that you're not waiting for an hour every time you get home.
Co-ed vs gender specific  You'll find both co-ed crash pads and female or male only crash pads. You'll have to ask yourself what you are most comfortable with. Crash pad living is a pretty intimate setting and there is usually only one bathroom. I chose to be in an all female crash pad because sometimes we would have to share the bathroom when time was of the essence.  Figure out what's important to you…only you know what your comfort level is.
Distance to the airport  Most crash pads are close to the airport, but the closest isn't necessarily the best choice since you also want to make sure there are things for you to do close by. Maybe working out is important to you. Some crash pads that are hotels will have a workout room. I also liked having convenience stores and restaurants within walking distance to me. Find out if your crash pad offers shuttle service to places other than the airport.
What can I bring and keep at my crash pad?  Understandably you'll want to make your new place feel like home, but keeping in mind the space limitations, you'll want to limit the amount of personal items you keep at your crash pad.  If you get a crash pad with other reserves, you should have a small corner to call your own where you can keep a couple pictures on a night stand and maybe a drawer full of your own things. If you're lucky, you'll have a little extra space to hang items other than your uniform in a closet…but this isn't always the case.
A very important thing to remember is that even though you are going to feel extremely close to your roommates and you want to trust everyone, you'll still want to protect your valuables. The only way to do that is to not leave any in your crash pad. There are always thieves unfortunately as well as people who just truly forget something is not theirs because property has become commingled.
Are you headed for a flight attendant interview or training? This is an expert from my new book, The Flying Pinto's Flight Attendant Survival Guide . I wrote this book just for you! It's everything I wish I had known when I started my career as a flight attendant. It picks up where training leaves off! Available on Amazon, iBooks and Nook. I would love to know what you think of my book! Please let me know in comments, facebook or twitter! And, of course you can always ask me any questions you have about being a flight attendant!