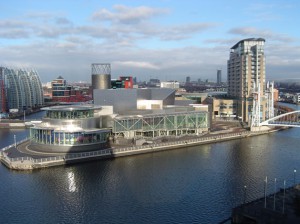 Manchester is far from being just for the grownups – in fact, there's a multitude of awesome activities, attractions and days out waiting to be explored by adults and children alike. Perfect as a day out or weekend break this summer, a trip to the city would be ideal for anyone wanting to break up the school holidays with something a little different from the norm.
If you're traveling from further afield,  Travelodge's hotels in Manchester city centre offer excellent value in the heart of the city, while the availability of family rooms mean that you and your children can stay in comfort, together, during your stay.
The main advice anyone can give before you head off for a city break with your kids is to plan in advance because if you don't, your dreams of a stress-free visit will be shattered. There's nothing worse than heading into the hubbub of a big city, with kids in tow, having absolutely no idea of what you want to do to keep them occupied when you're there. Research the family-friendly options and plan your days – obviously not as strict as minute by minute, but have a vague idea of what you want to achieve and where you want to take your children during your stay.
As far as places to go are concerned, here are some of the fantastic options available within the city centre:
The Lowry
While The Lowry may be the home of umpteen cultural attractions that mainly adults would appreciate, it's also a perfect place to spend some time with the brood. From the family shows at one of its three theaters to dance classes and drama workshops, you can guarantee that there'll be something to keep them busy during a visit.
National Football Museum
This may not appeal to every child alive, but for those who love a bit of a kickabout, the NFM would be an ideal stop during your stay in Manchester. Completely family-friendly, there are plenty of activities within the museum dedicated to the younger visitors, including a Discovery Zone for 5's and under, and FootballPlus+ simulations which would be great fun for those 7 and up. Homed in the prominent Urbis building, this brand new museum is an absolute must-see for any footie fan.
Manchester Museum
It doesn't matter whether you're 3 or 103 at Manchester Museum, there's so much to see and do that age won't affect your enjoyment.
From Big Saturdays and holiday events to object handling and Nature Discovery, you can guarantee that you and your kids will have a great day out here. You can enjoy a Big Saturday on the 29th June that focuses on trees and will include hands-on investigations as well as learning more about tree fossils and the opportunity to contribute to a tree installation. Plus, it's completely free!
Make the most of quality time with your children when you have it. Don't let life pass you by – enjoy their company while they're young because they'll grow faster than you realize. With affordable family rooms available from Travelodge's hotels in Manchester city centre, you don't even have to worry about funding the trip, meaning all you do need to focus on is having fun with your little ones.