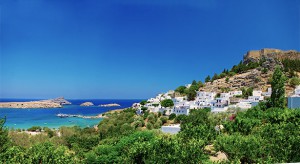 Well known for its 'Butterfly Valley', the Greek island of Rhodes is a land enriched with nature, history and magnificent views. From medieval ruins to glorious sandy beaches, a Rhodes holiday is the perfect choice for those wanting to enjoy a relaxing getaway with some sight-seeing thrown in!
Situated in the south near to the village of Kalamonas is the beautiful Butterfly Valley; take in the tranquil sounds of the waterfalls whilst spotting some rare colorful Kalimorfa butterflies – otherwise known as Jersey Tiger Moths, which come every year between June and September.
Explore the ancient town of Lindos where up high 400 feet above the waters lie the 3rd Century ruins surrounded by medieval walls built by the Knights of St. John. There's a magnificent reconstructed temple with grand stairways, porticos and monuments. The views over the Aegean are stunning from here and if you want to try the traditional Greek travel, there's a chance to climb up to the site on a donkey!
For the laid back sun and sea lovers, discover the fabulous beaches; from the 3km stretch of soft sands at Faliraki, awarded a Blue Flag with its shallow waters, to Tsambika Beach. Situated between Faliraki and Lindos and voted the best on the island, Tsambika Beach boasts warm sands, fantastic water sports and nearby tavernas offering fresh local cuisine.
A beautiful spot to explore is Kalithea Spa. Set in a little rocky bay on the west coast, people used to travel to the spot to immerse themselves in the natural spring waters which were said to have special healing powers. The springs are not used today but this enchanting place is perfect to sunbathe and enjoy a dip in clear waters. It's a haven for swimmers and snorkelers alike.
Rhodes offers a magical mix of sugar-cubed villages, rich history, beautiful nature and up-tempo resorts and with its long hours of sunshine you can't go far wrong by choosing Rhodes for your summer holiday.